My latest trilogy is a satire mystery about seniors who live in a community like the one I live in, Carlisle Naples. My fellow residents had urged me to write about "living in assisted living."
If you would like autographed copies of these books, you can order here. The books are also available individually or as a collection from Bluewater Press, and also on Amazon.
From publisher Bluewater Press: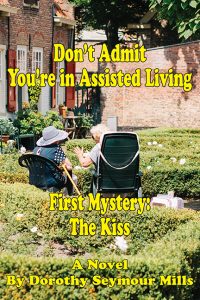 In the first mystery, The Kiss, a group of residents of a Florida assisted living facility, Locksley Glen, are stunned to learn that a young server in the dining room has kissed one of the elderly male residents. That just isn't done at Locksley Glen. The resident isn't explaining. Nobody can figure out why, even after a Halloween Party offers more clues: a woman resident discovers that the fake knife that is part of her Halloween costume is stained with real blood. Finding out why means examining the lives of young immigrants and helping them become contributing Americans.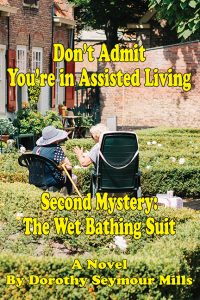 In the second mystery, The Wet Bathing Suit, someone has lost their wet bathing suit at the Locksley Glen pool and now the question is – who is running around in their bathing suit? The soggy two-piece bathing suit, left at the pool, leads the residents of Locksley Glen to suspect foul play. After all, would a woman leave the pool without her suit unless she was forced to do so? Research into everything they can think of brings them to no conclusion until Alice One begins thinking about the possibilities offered by a symbol on a design found in San Francisco. When Alice One burns the toast she made in the middle of the night, she comes closer to the solution, which she and Starr finally pin down during the annual art show.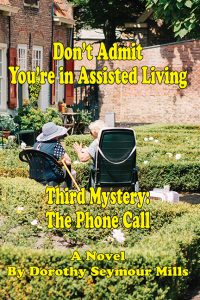 In the third mystery, The Phone Call, the elderly amateur sleuths end up as victims – but they are not going to allow it! When things begin to disappear from apartments at Locksley Glen, residents cooperate to look for evidence of the person responsible, but for a long time, they find nothing that points clearly to the one to blame. Finally, at a society wedding of a Locksley Glen resident's daughter, a violent storm brings residents together as a unit to ferret out the perpetrator by using a language clue.
---
Reviews for Don't Admit You're in Assisted Living
Meet a delightfully zany cast of characters celebrating their lives to the fullest in a Florida assisted living facility called Locksley Glen, where partying is a large part of assistance with living.
In Don't Admit You're in Assisted Living, you'll discover that life can be amusing no matter what your age, your condition, and where you live. While adjusting to being old, these seniors help untangle several mysteries, scoring the "assist" in "assisted living."
Dorothy Mills will make you laugh out loud when you discover her clever way with words. She reveals that growing old can be the time of our lives.
Don't Admit You're in Assisted Living will be a hit with aging boomers and an engaging addition to library bookshelves. I look forward to reading more about Locksley Glen.
— Marlene Vogelsang, California librarian
People from young adults to baby boomers regard senior living communities as dour prisons to which we will inevitably be sentenced. Dorothy Seymour Mills' light-hearted, engaging mysteries set in Locksley Glen, a fictional Florida assisted living community, will upend that dread. AS Mills says, living in such a place can be entertaining — and sometimes downright hilarious.
You'll meet many quirky yet believable characters, like Clarence, recipient of a kiss delivered by a male employee, who becomes the center of intrigue involving arrests and even possible terrorism. There's clever Katrina, whose outfits mirror Dutch folk costumes and who has a tendency to state the obvious. But most important, you'll meet central character Alice One, a painter whose vivid imagination will take you down rabbit holes in ways both amazing and amusing.
Don't Admit You're in Assisted Living shows a side of senior life whose presence is too often unexpected. Locksley Glen's seniors live with aches and pains endemic among elders, but they are also lively, sociable, ingenious, open to new ideas, and most important, always ready for fun.
— Dr. Charmaine Wellington, recently retired from Washington State University