Regretfully, I've decided that now is the time that I must stop traveling to attend conferences and conventions, no matter how much I enjoy them.
I was recently diagnosed with an additional condition, peripheral neuropathy, which makes moving around even harder and more painful than before. Today's hotel rooms and plane seats are not designed for people with problems like mine.
I will greatly miss the friendliness of my colleagues and their kindness to me. Over the years, many have become good friends.
I am especially sorry to bow out before the initiation of the Dorothy Seymour Mills Lifetime Achievement Award established by SABR's Women in Baseball committee, particularly since the first honor will go to someone I admire very much for her lifetime achievements. I prepared some remarks in honor of umpire Perry Barber to be shared at SABR 48.
---
I'm scheduled to speak about my new books locally this fall. On Nov. 11, 2018, I'll speak at the Forum held at 10 a.m. Sundays at the Unitarian Universalist Congregation in Naples. I will show and sell the books. The title of the three-volume series is Don't Admit You're in Assisted Living, a satire published by BlueWater Press of St. Augustine, which publishes only books about Florida. The individual titles are: first mystery The Kiss, second mystery The Wet Bathing Suit, and third mystery The Phone Call.
---
I will be lunching on April 11 with a small book club from Naples Land Yacht Harbor. By that time, members will already have read the trilogy called Don't Admit You're in Assisted Living. I will make a short presentation, and they will ask their questions. My husband Roy and I lived at NLYH for ten years when we came to Florida and loved it there. It's a place for younger seniors who are still very active.
---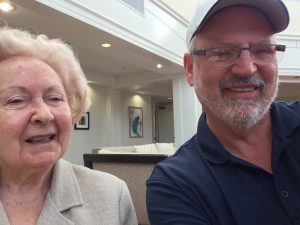 In late March I had a visit from Morris Eckhouse, who was on a 22-day driving trip to see baseball people, baseball parks, and other sites that interest him. We talked about the Cleveland Baseball Heritage Park, of which he is the head. Last fall he invited me to take part in the program he organized to help develop League Park into The Cleveland Baseball Heritage Museum.​​ I spoke and took part in a discussion of Cleveland women in the history of baseball.​ I told of my Cleveland connection. Morris also interviewed me so the interview would be part of the Cleveland Public Library collections; there are more than one.
---
I have been sharing my newest trilogy, Don't Admit You're in Assisted Living, with other senior residences in Florida. On March 12, 2018, I spoke at Bradford Square in Naples, and on March 14 I spoke at The Terraces, a community in nearby Bonita Springs. These photos were taken by staff at The Terraces. The first shows me presenting a description of my new books on assisted living and reading selections from the three books. The audience was very responsive and chuckled at all the right placers. Afterward, many residents wanted to talk to me. One said, "Your writing reminds me of P.G. Wodehouse." What a compliment! Others said they found some of the stories similar to events they experienced themselves in assisted living. Some said they thought the descriptions of what could happen in assisted living to be helpful to new residents in getting settled.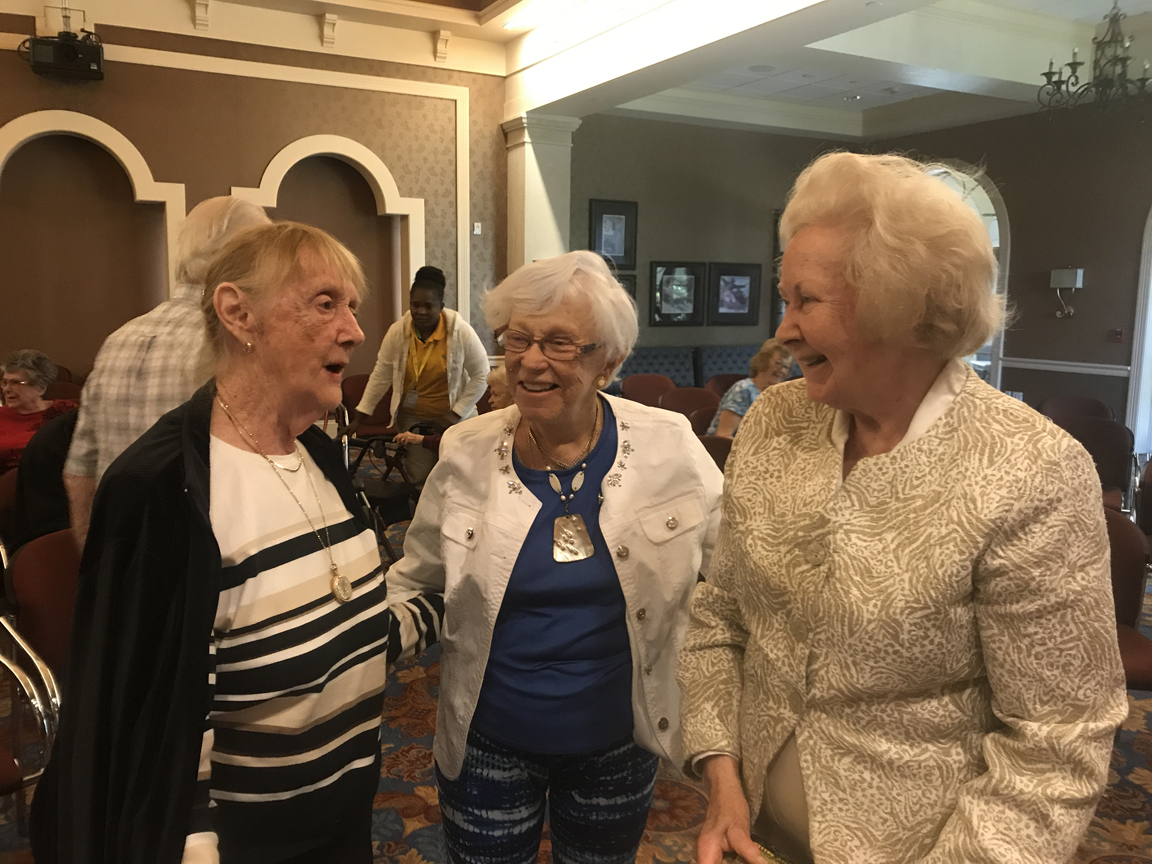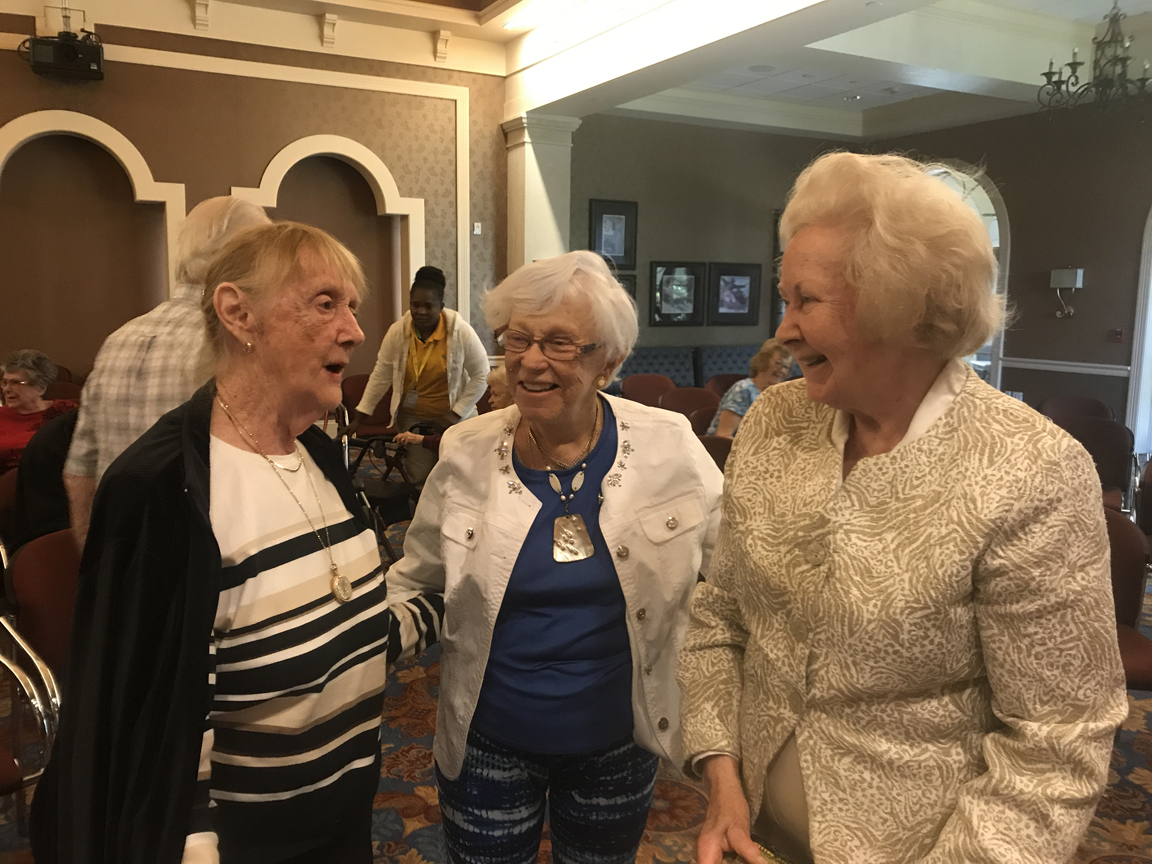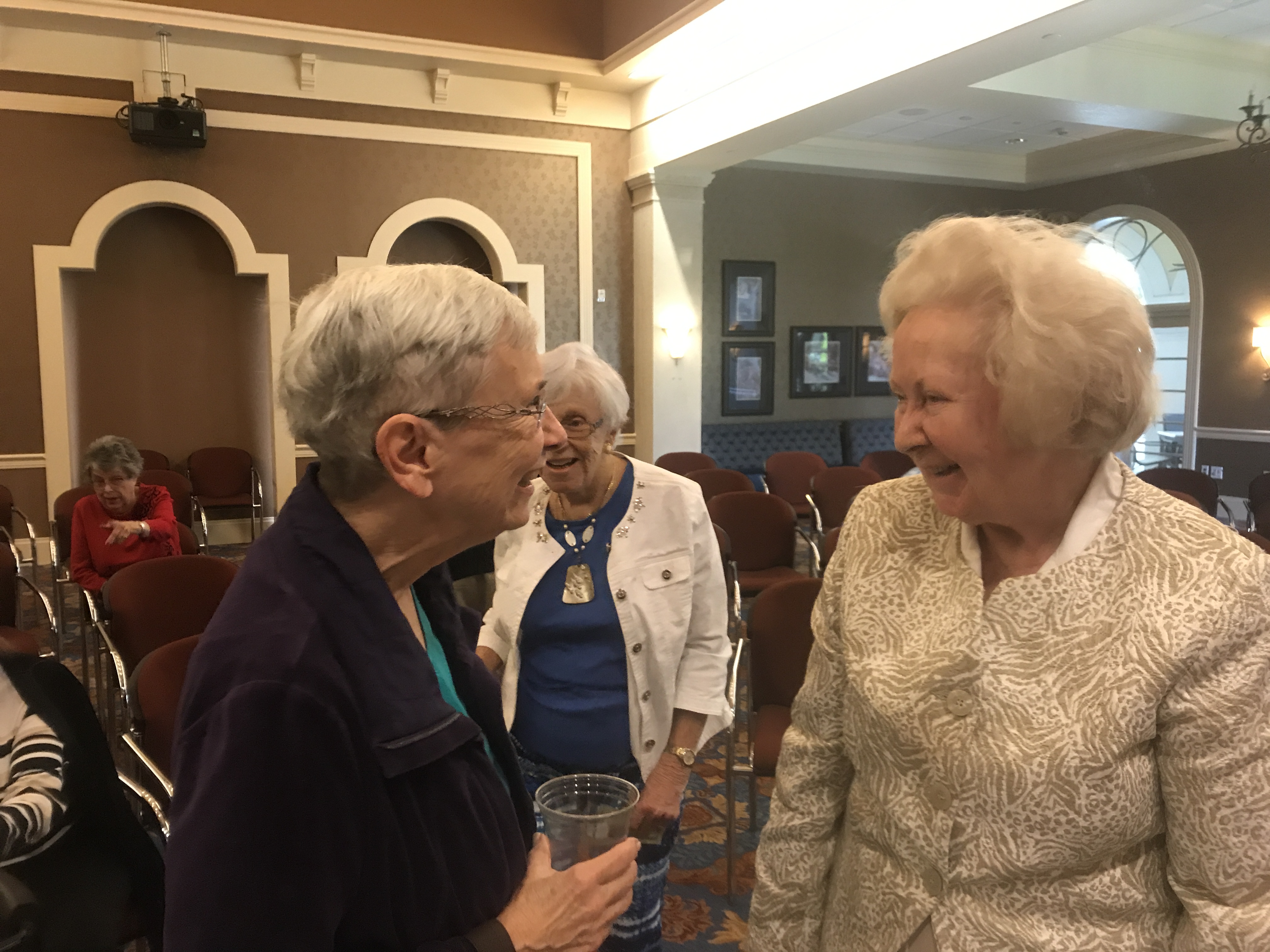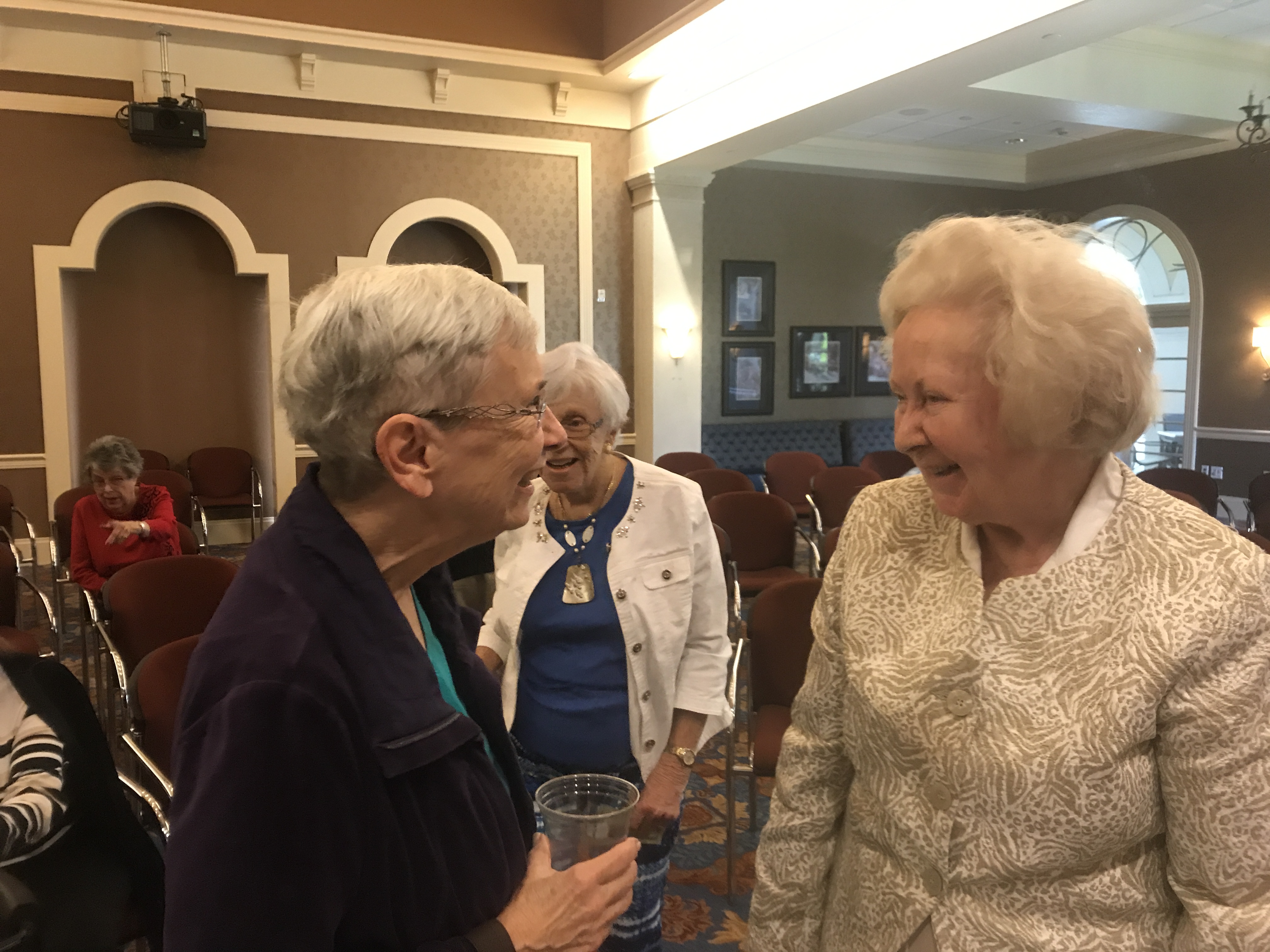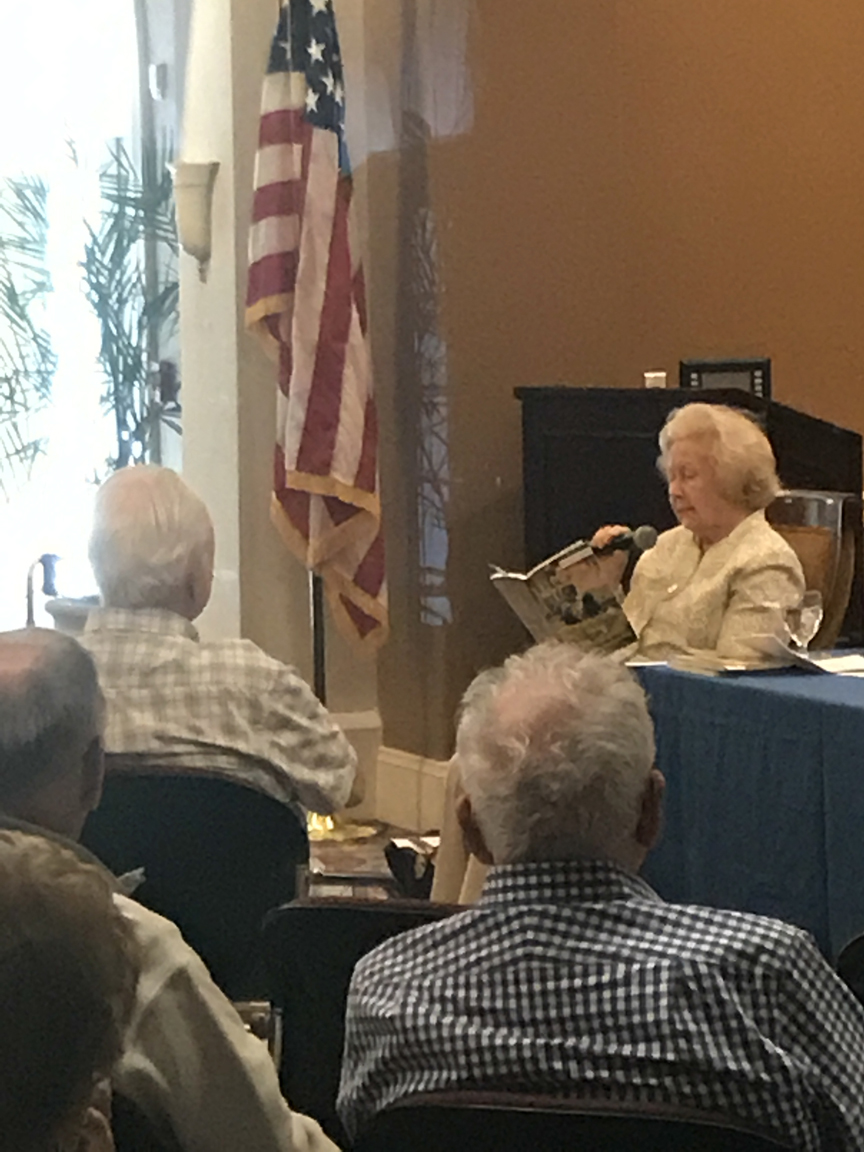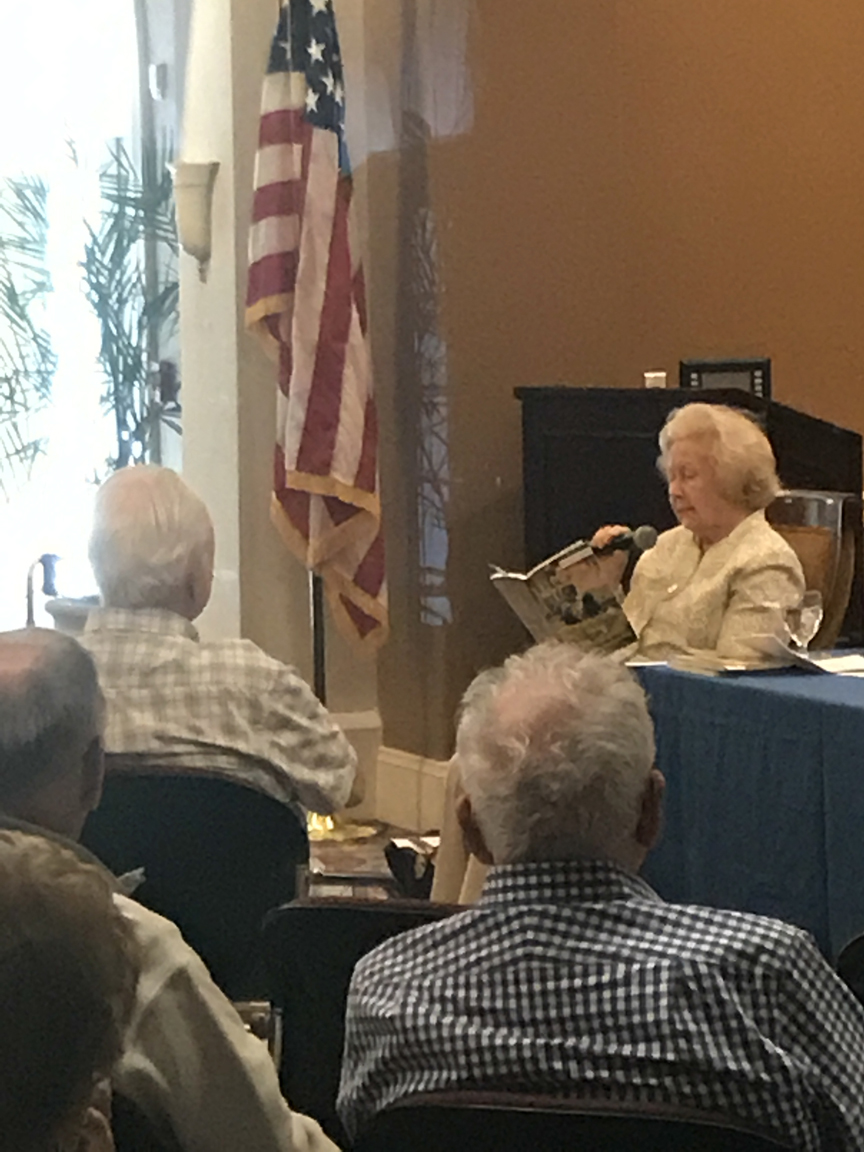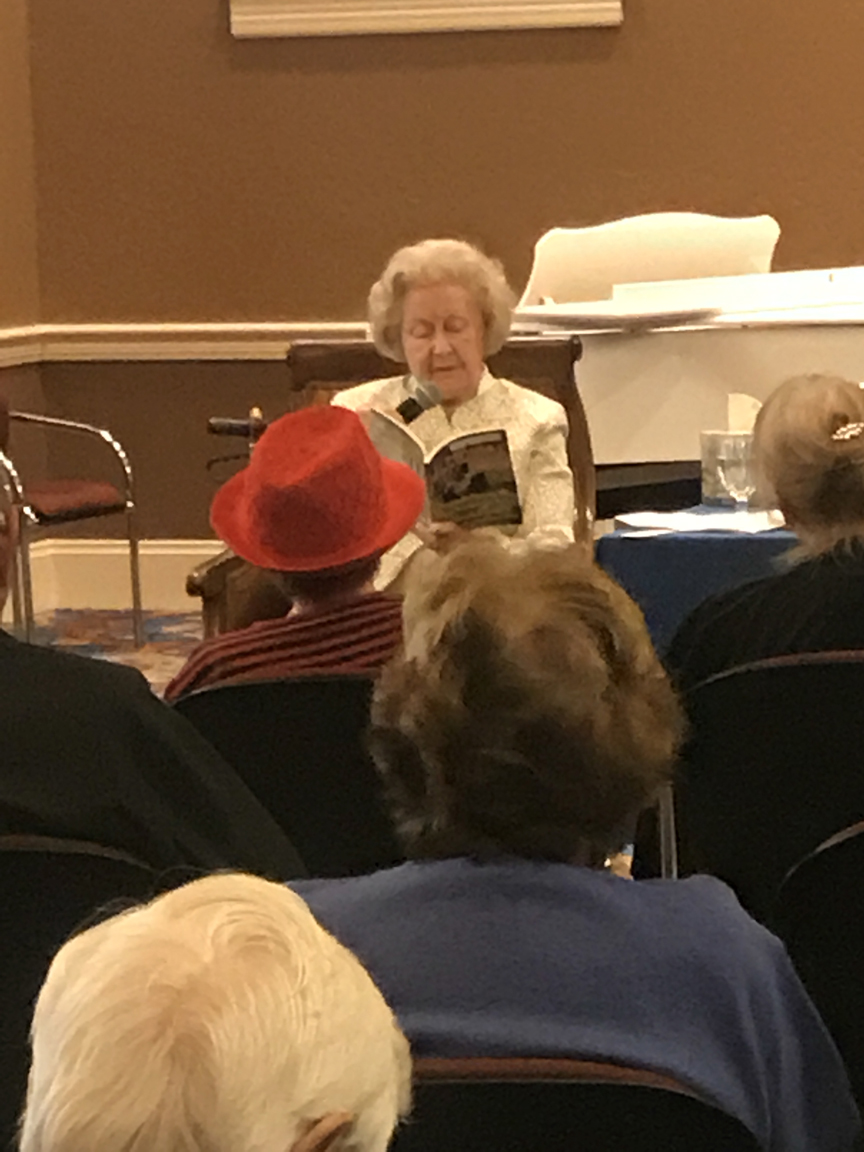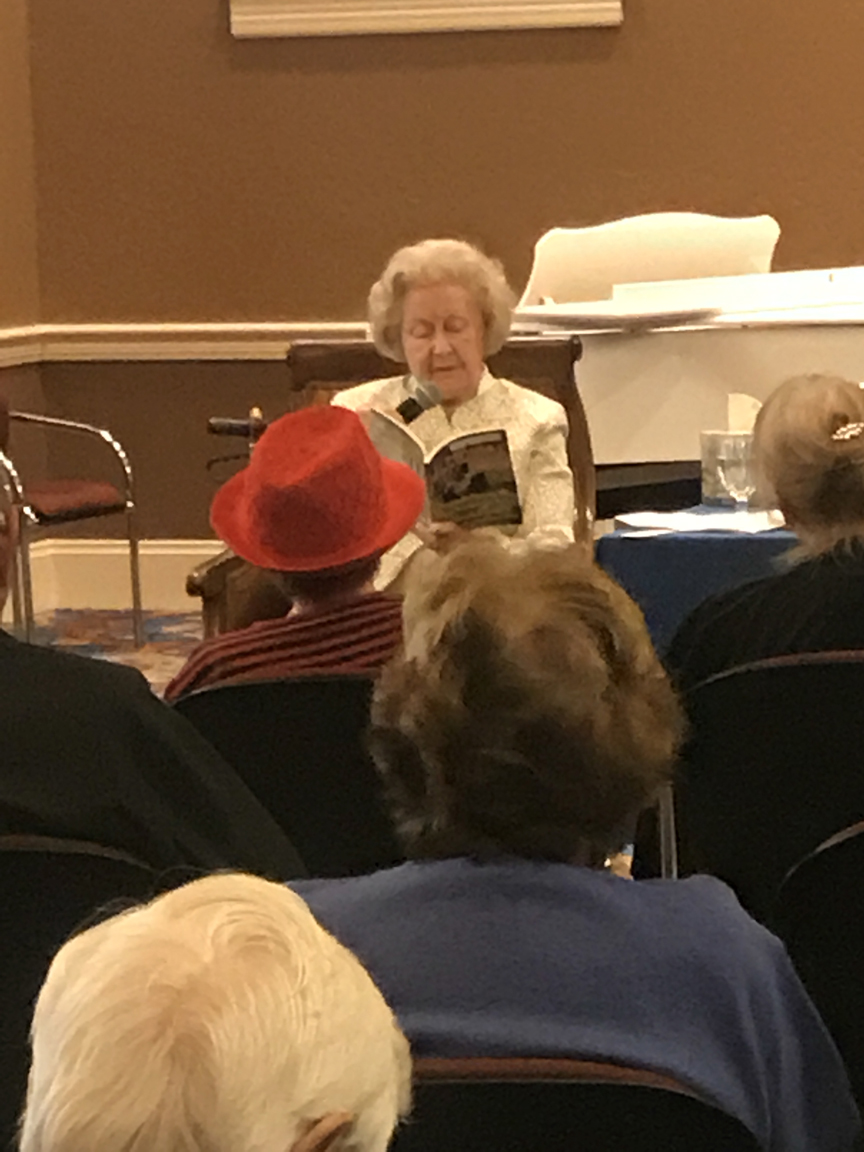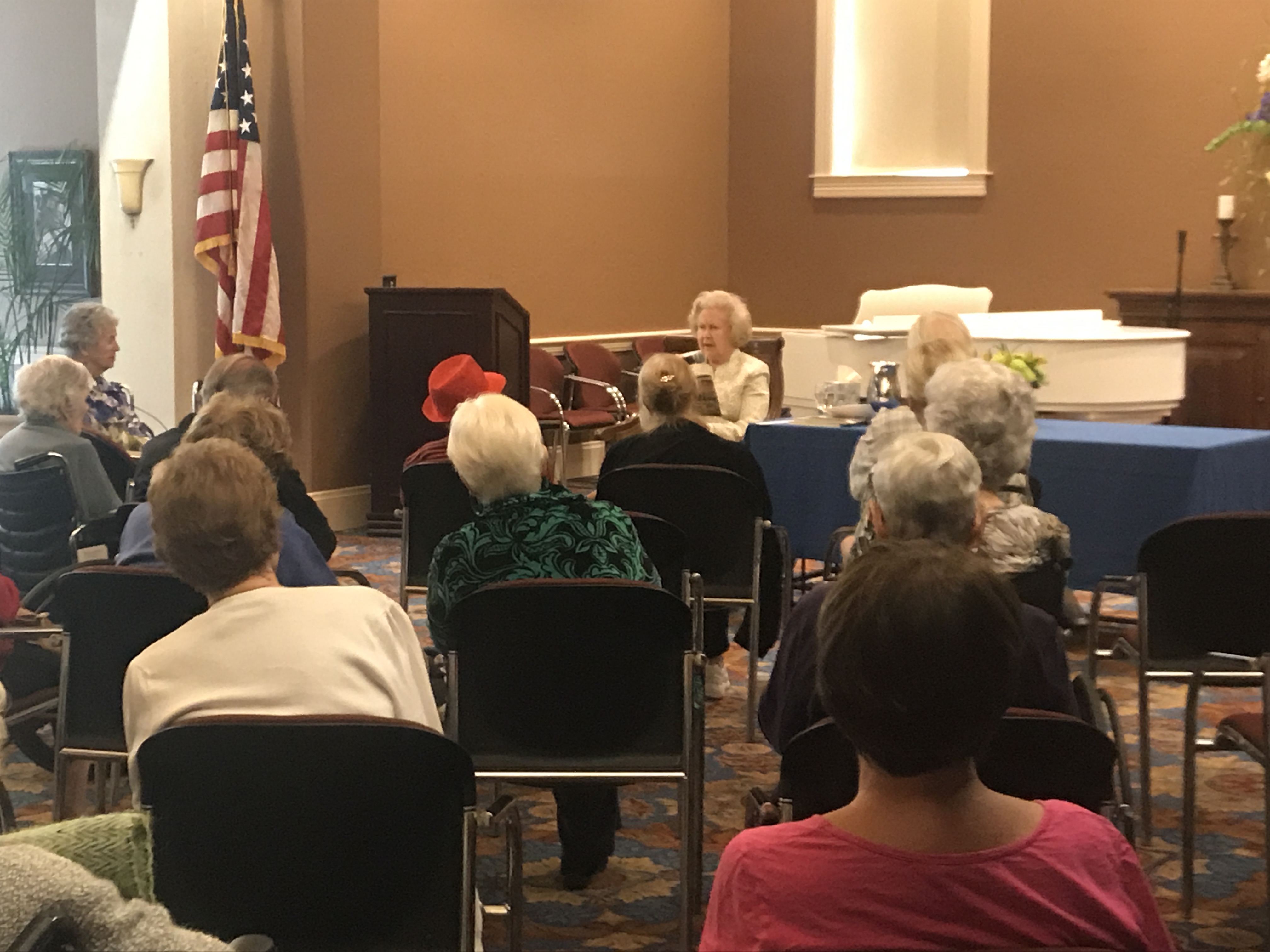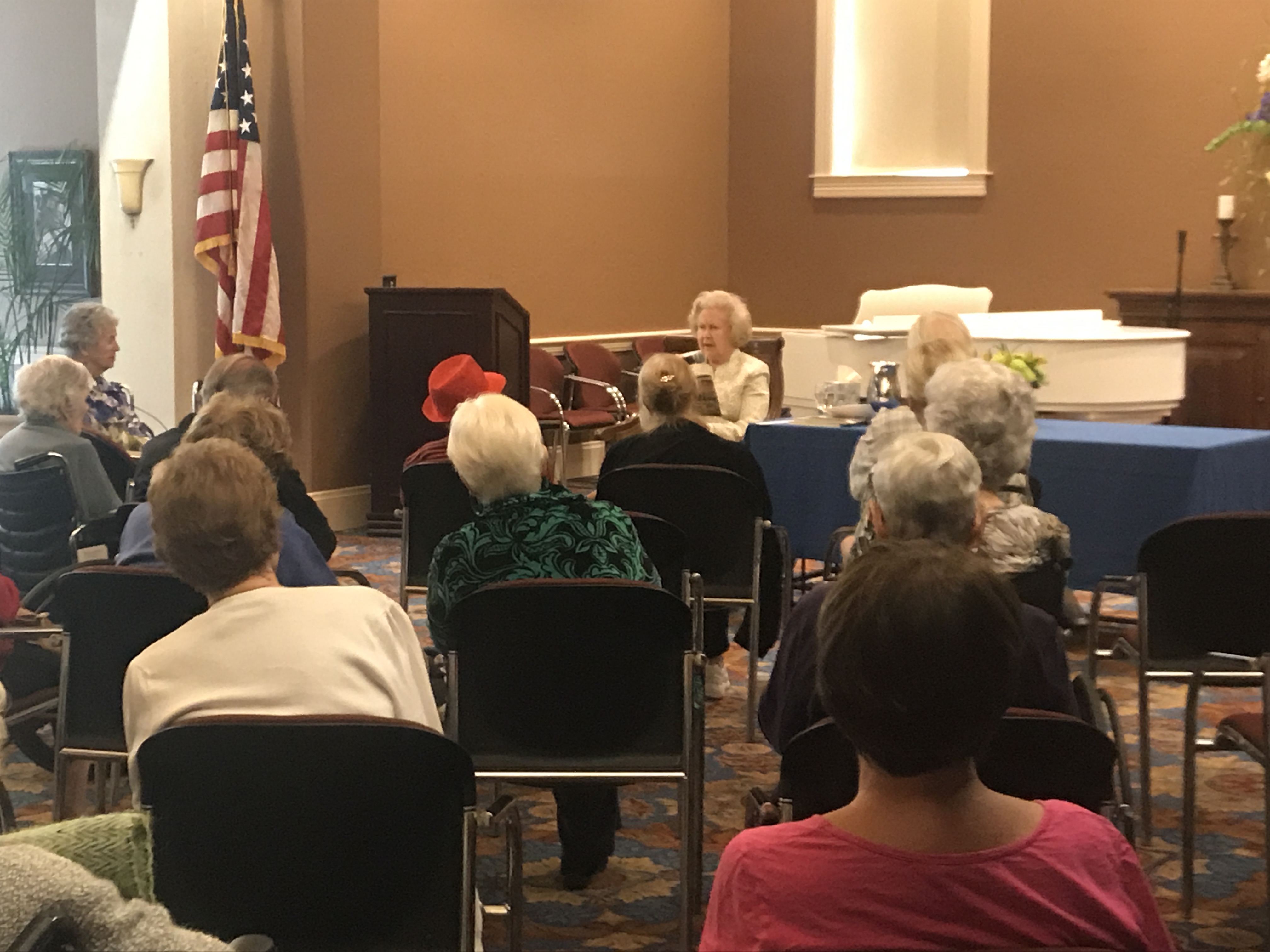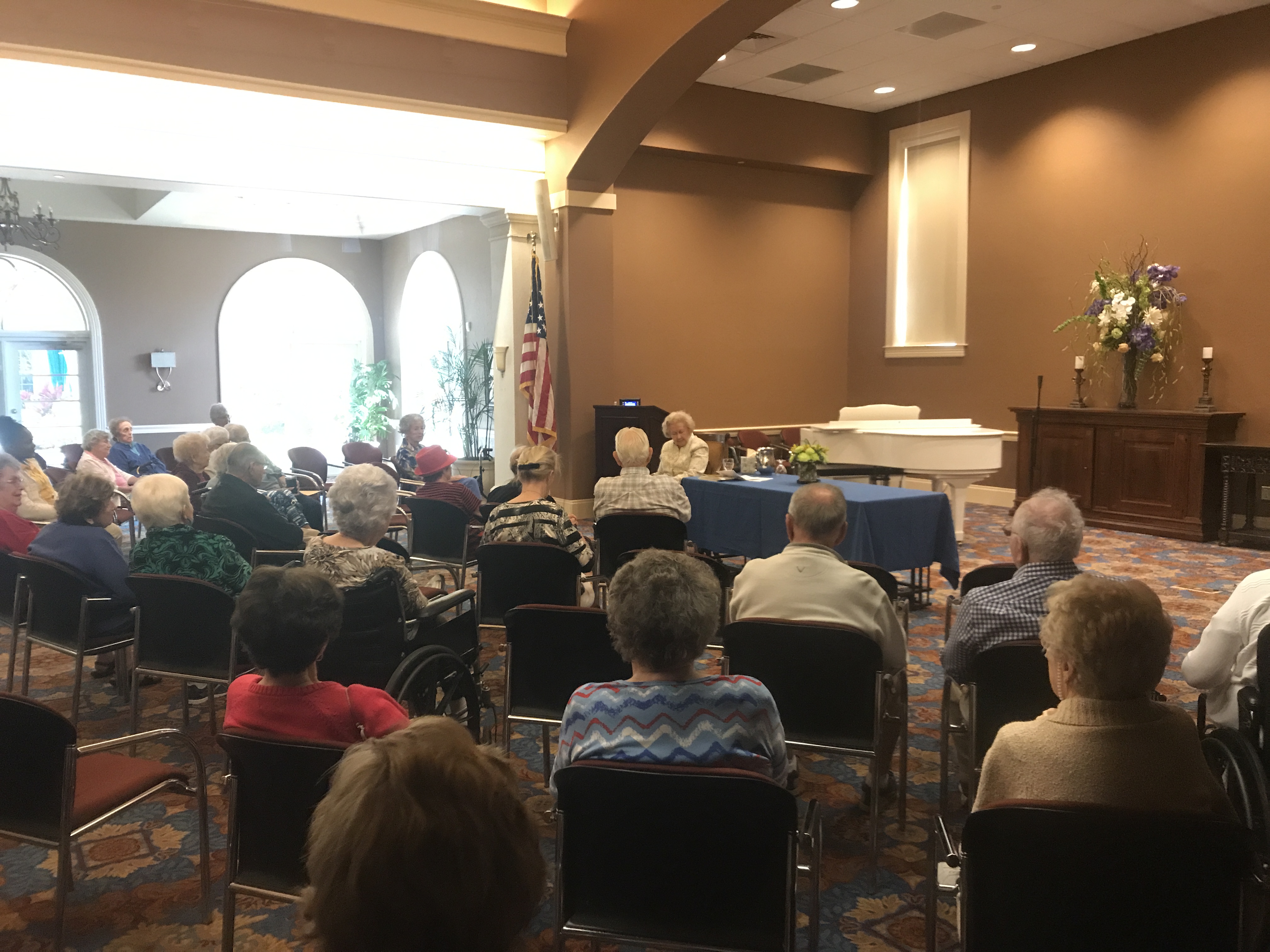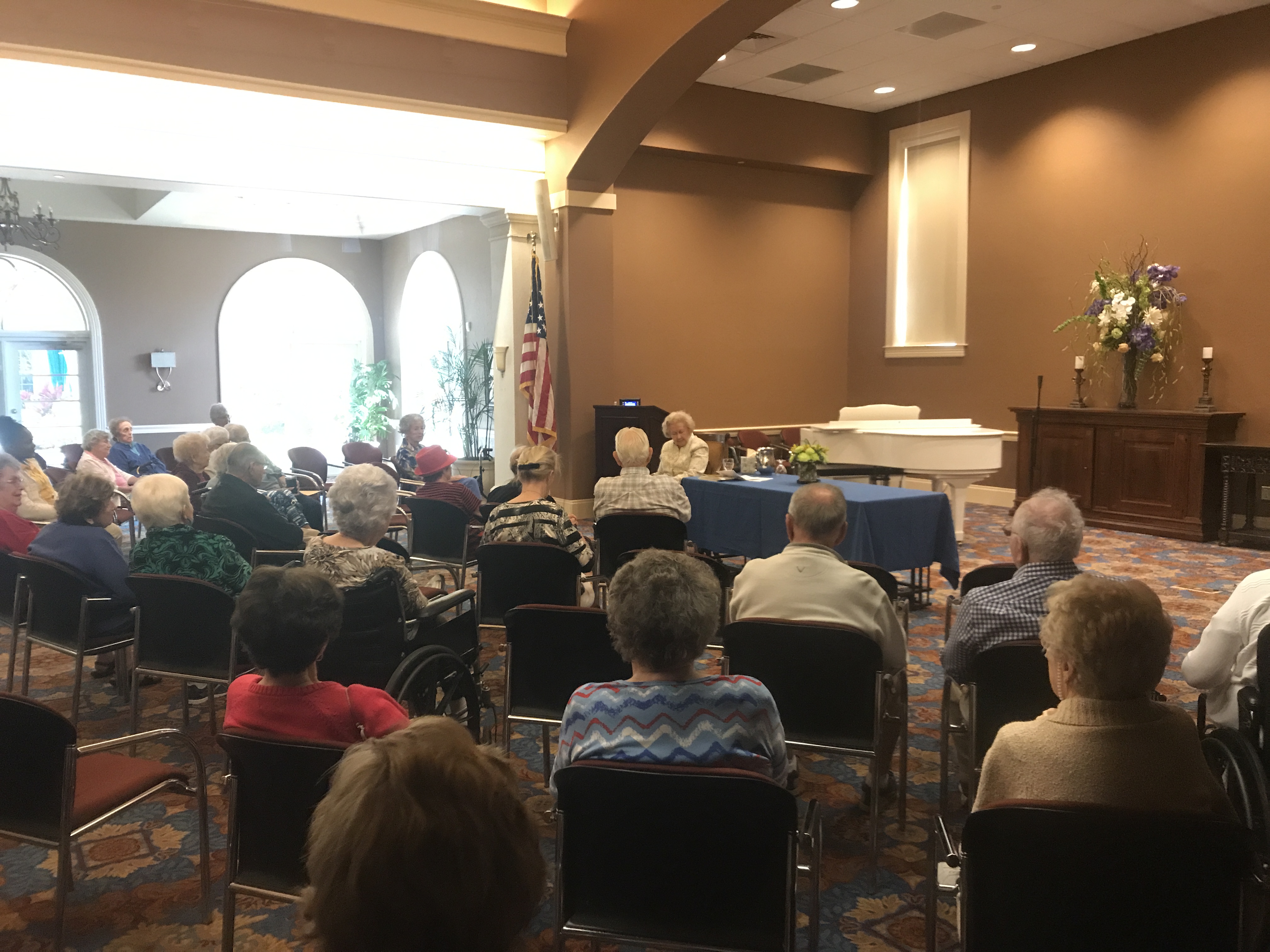 ---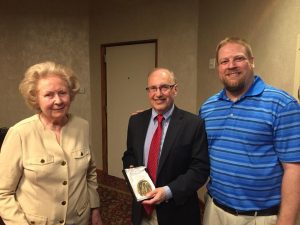 Once again I traveled to Arizona in March to attend the Spring Training Conference hosted by NINE: A Journal of Baseball History & Culture.
During the conference I presented the Seymour Medal to 2018 winner Jerald Podair, who wrote City of Dreams: Dodger Stadium and the Birth of Modern Los Angeles.
---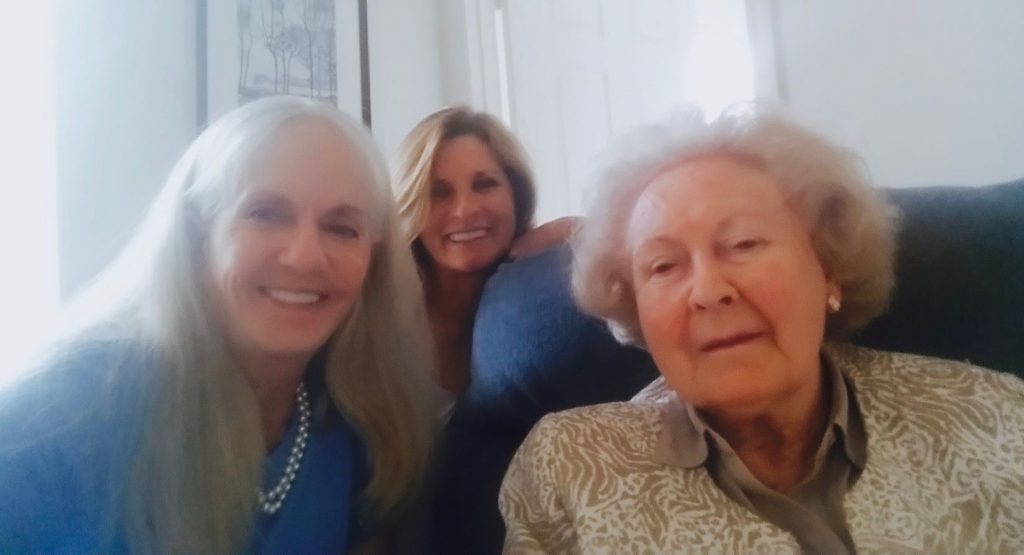 In February, Perry Barber and Ila Valcarcel, movers and shakers in women's baseball, came to Naples for a visit and bought a set of my assisted living books.
---
My first presentation in 2018 involved asking the Activities Director for an hour's time to tell about, show, and sell copies of my new trilogy, Don't Admit You're in Assisted Living, a satire about seniors who live in a community like the one I live in, called the Carlisle Naples.
Since virtually everyone was aware of the stories while they were being written, the Activities Director was ready to assign time for this. The Carlisle residents were anxious to see whether their own characteristics could be found in some of the characters I created for the stories (impossible, of course), or if they could recognize some of the book characters as people they knew (impossible again). They themselves had urged me to write about living in "assisted living," since they were aware that such an experience had its amusing aspects, but some did not realize that writing fiction means writing only about people who did not exist. A fictional person in a mystery story might (might!!!) possess only one such familiar characteristic.
The Activities Director set aside 11 a.m. on Jan. 15, 2018, for residents of the Independent Living Section and 3:30 p.m. for residents of the Assisted Living Section to hear my presentation. Extra chairs had to be set up for all those who wanted to see and hear.
I selected two short segments from each of the three mysteries to read to each audience, segments that I thought would give the flavor of the writing style as well as the kind of events depicted in the stories.
Afterward, many from the audience stood in line to buy the books. I autographed and inscribed their purchases. In the room were a "features pair," from the local newspaper, a photographer and writer who work together, who snapped photos and afterward asked questions, as well as another writer, Lance Shearer, who had interviewed me before, after I had been invited by a local French restaurant to present my Katya Becker trilogy about the Austrian Nazis of the 1930s. The features pair, Louis Berney and Luke Franke, produced a story mostly about me rather than the books, since the reporters had no opportunity to read them. It appeared in the Naples Daily News on Jan. 22, 2018. The other story, "Seniors turned Detectives," by Lance Shearer, appeared Jan. 27, 2018. He'd had some access to descriptions of the stories and information about them, so he could write more informatively about the books.
Since those presentations, I have been asked to make two more, to other senior communities in Naples.
On March 12, 2018, I will be speaking at 11 a.m. at Bradford Square in Naples, and on March 14, 2018, I will speak at 11 a.m. at The Terraces, a community in nearby Bonita Springs. I cannot tell you if either of these permit outsiders to join them. I'm sure you could find out with a phone call.
Some individuals have visited my office in my Carlisle apartment to purchase books, or to have me autograph and inscribe books they have bought at amazon.com or at Barnes and Noble. It is always fun for readers and writers to meet and find out what the other is like.
Now that the revision of my website is complete, you have another source: you can purchase copies of these books right along with my other books, through my website. You can buy single copies or all three of the volumes in the set of published mysteries. I will autograph them and send them to you myself.
---
The 2017 SABR convention, always an exciting event with about 700 people milling around or rushing here and there, took place in the country's most exciting city — New York City, June 28-31, 2017. I know that every time I go to the SABR Convention I will be reunited with people I have known and respected for years, but I will also meet others whose new knowledge and ideas will bowl me over.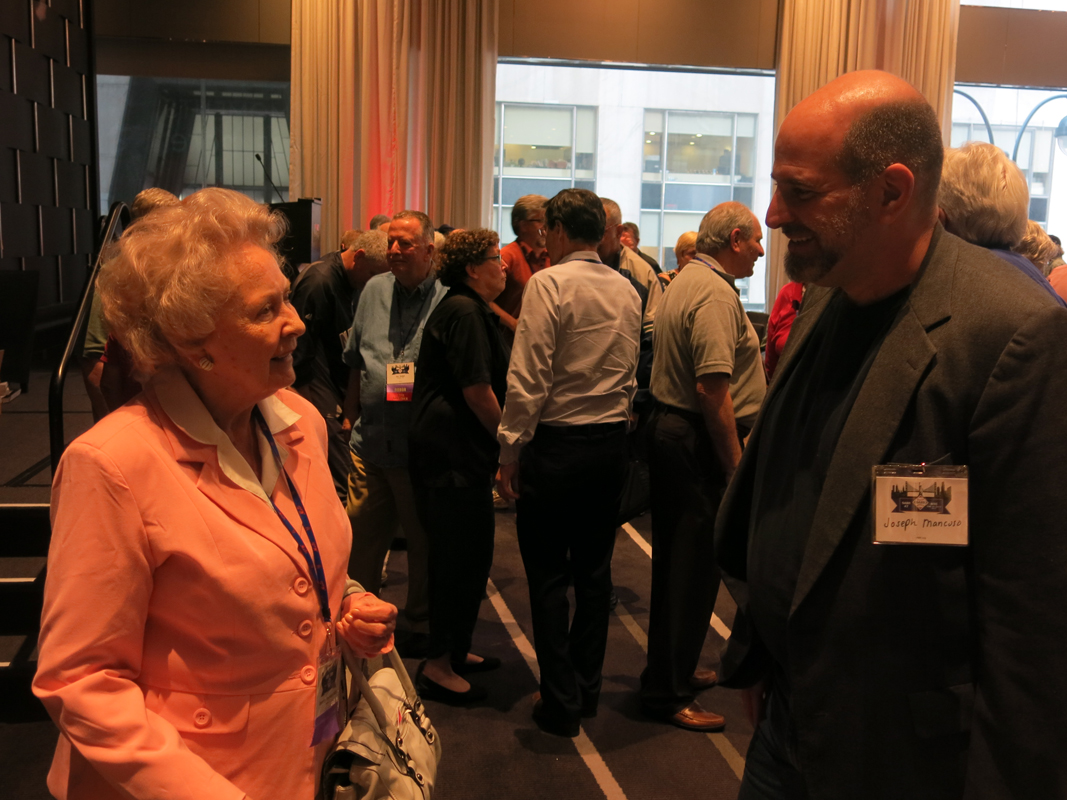 ---
Sometime this Spring I will join Morris Eckhouse, a former head of SABR, at the Baseball Heritage Museum at the newly refurbished League Park in my hometown of Cleveland, Ohio. I want to contribute my stories of the past to the planned celebration of League Park. The date has not yet been determined.
---
I will introduce Mark Horner's film, "Town Teams: Bigger Than Baseball," in a screening at the annual conference of SABR's Nineteenth Century Committee, held April 21-22, 2017, in Cooperstown, N.Y. I previously gave the keynote address at this conference in 2010.
---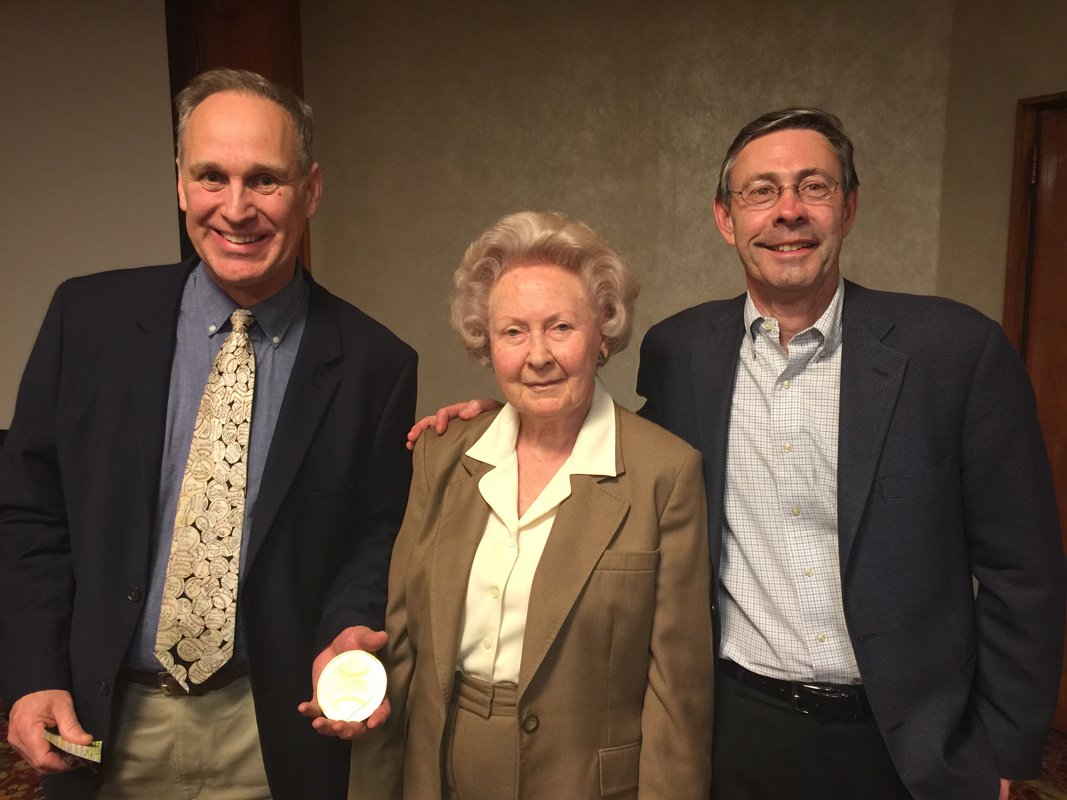 Every year the NINE Conference, held in Phoenix from March 1-4, 2017, ends its deliberations with the banquet that features awarding the Harold and Dorothy Seymour Medal, presented annually by SABR for the best book of baseball history or biography published in the previous year.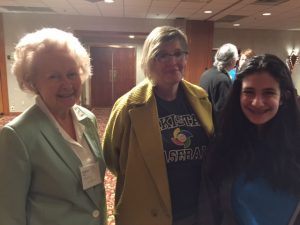 I presented that Medal to the winning author in a brief speech explaining why the book won the competition.
Pictured above is winner Robert Trumpbour and SABR CEO Marc Appleman. Not pictured is winner Kenneth Womack.
At the NINE convention I spoke with many researchers including Roberta Newman, and seventh-grader Noa Ressler, daughter of frequent speaker Bill Ressler.
---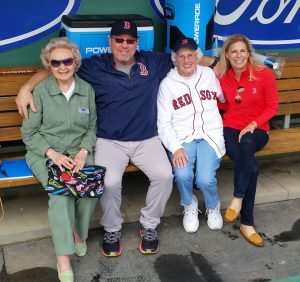 Jan. 13-14, 2017, I attended the final two days of the Women's Red Sox Fantasy Camp, where I was the guest of the Sox via Donna Cohen, who presented the camp. I spent most of my time in the dugout at Jet Blue Park in Fort Myers, Florida, wearing my new Red Sox baseball cap and taking copious notes. I learned a lot, and as a result plan to write a new introduction to my women's baseball manuscript.
Perry Barber, the well-known (woman) umpire took me to the camp, where she was the director of the umpiring staff. Shirley Burkovich and Mary Moore, veterans of the All-American Girls Professional Baseball League, were there. So were Marti Sementelli and Stacy Piagno, top current women players, as part of the camp's staff.
I met several veteran Red Sox retired players and active coaches (ever hear of a guy named Luis Tiant?), and my hand was licked by Homer, the team mascot, who is a huge bulldog. The whole thing wound up with a terrific banquet. As Janet Mitchell, a player, put it later, "What a blast!"
---
I was interviewed by the Naples Daily News for an article published on July 11, 2016, about my involvement with "Town Teams: Bigger Than Baseball." You can read the article and view the video.
---
On July 11, 2016, the Carlisle, a senior community in Naples where I live, will present "Town Teams: Bigger Than Baseball," the television documentary produced by Mark Honer of Kansas City. I will introduce the film.
I wrote abut this documentary in my blog of Jan. 17, when Mark and his videographer came to the Carlisle to interview me for his film. I wrote about it again, in my blog of May 2, when the documentary had its premiere in Kansas City.
Now I can announce the film is having its Naples premiere, and if you live in this area, you're welcome to attend the occasion at 11:30 a.m. on July 11 in the building's theatre. Admission is free.
The Carlisle is at the corner of Airport Road and Orange Blossom in North Naples. The film runs for 40 minutes. And you will find it riveting.
---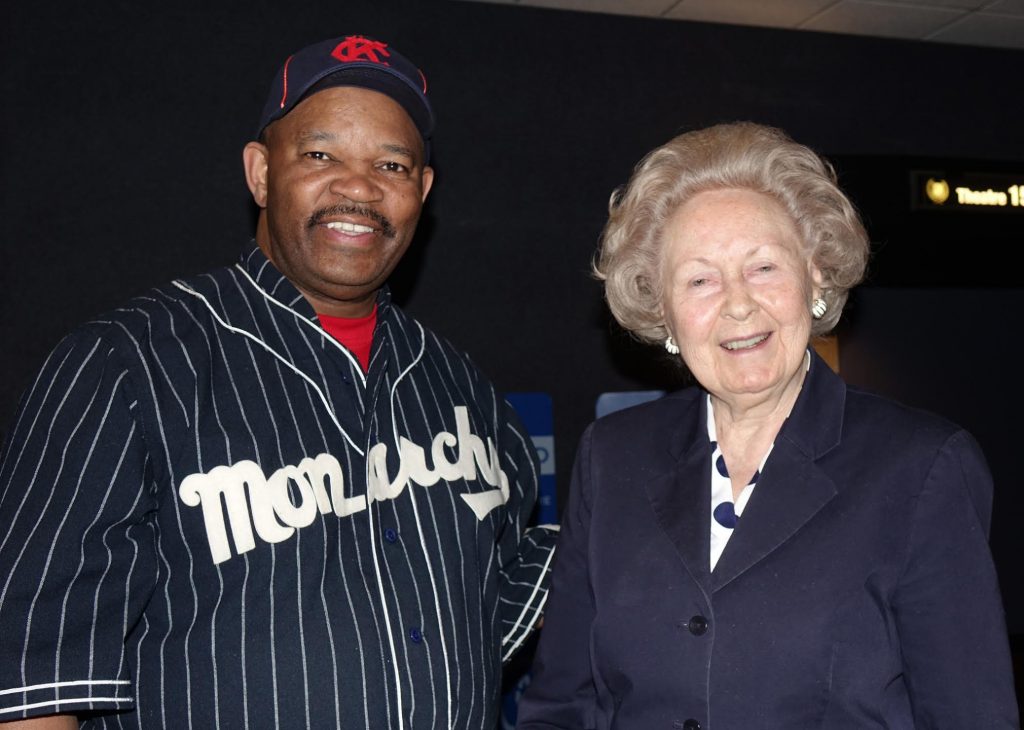 I attended the premiere of "Town Teams: Bigger Than Baseball" and participated in a panel discussion on April 28, 2016. For more about the experience, including more photos, read my blog entry.
---
On Friday April 28, 2016, I'll be in Kansas City. I've been invited to attend the premiere of "Town Teams: Bigger Than Baseball," a new documentary on early baseball produced by Mark Honer of DHTV Producers. The film will be shown at 7:00 p.m. at the B & B Theater on Midland Drive in Shawnee, Kansas.
One reason I'm invited to attend his premiere is that I'm one of the baseball historians who appears in the documentary. Early this year, Mark and his videographer traveled to Naples to interview me for the film. During the interview I spoke about the importance of baseball parks in early America, explaining that they were of signal importance in building a town's local pride and attracting other forward-looking events like the expansion of the railroads.
Mark, the producer and writer, will be at the premiere to explain his work. After the film is shown, two other baseball historians and I will form a panel to answer questions.
The two others are Mark Eberle, whose new book on Kansas City baseball history is in press, and Phil Dixon, who has published six books on the Negro Leagues and specializes in the Kansas City Monarchs.
Members of the Kansas City Chapter of the Society for American Baseball Research will be present to explain the work of SABR and the contributions of its scholars to history.
---
On April 17, 2016, I'll be speaking to the Unitarian Congregation of Greater Naples on the topic "Undaunted Boldness; Women Play Baseball." The title comes from Emerson, whose essay on heroism made me realize that although Americans treat their male professional baseball players as heroes, it's the women players who deserve the title, for what they go through in order to play the game they love. The PowerPoint presentation takes place at 9:15 a.m. in the Forum, the special venue that the Congregation has set aside for presentations by members who speak on topics that are their specialties and that relate to social problems like discrimination. "Undaunted Boldness" is the working title of my next book on this subject.
---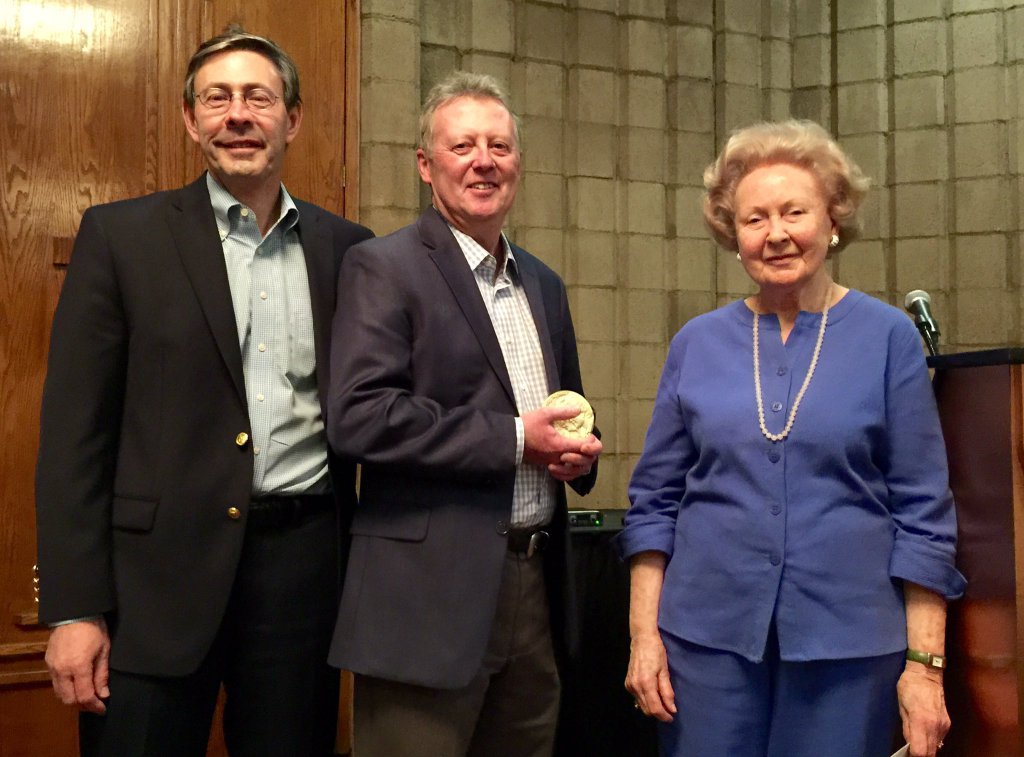 I presented Bill Pennington, center, with the 2016 SABR Seymour Medal at the banquet of the 23nd annual NINE Spring Training Conference on March 12, 2016, in Tempe, Arizona. Pennington won the Seymour Medal for Billy Martin: Baseball's Flawed Genius, published by Houghton Mifflin Harcourt. With us is SABR Executive Director Marc Appleman.
---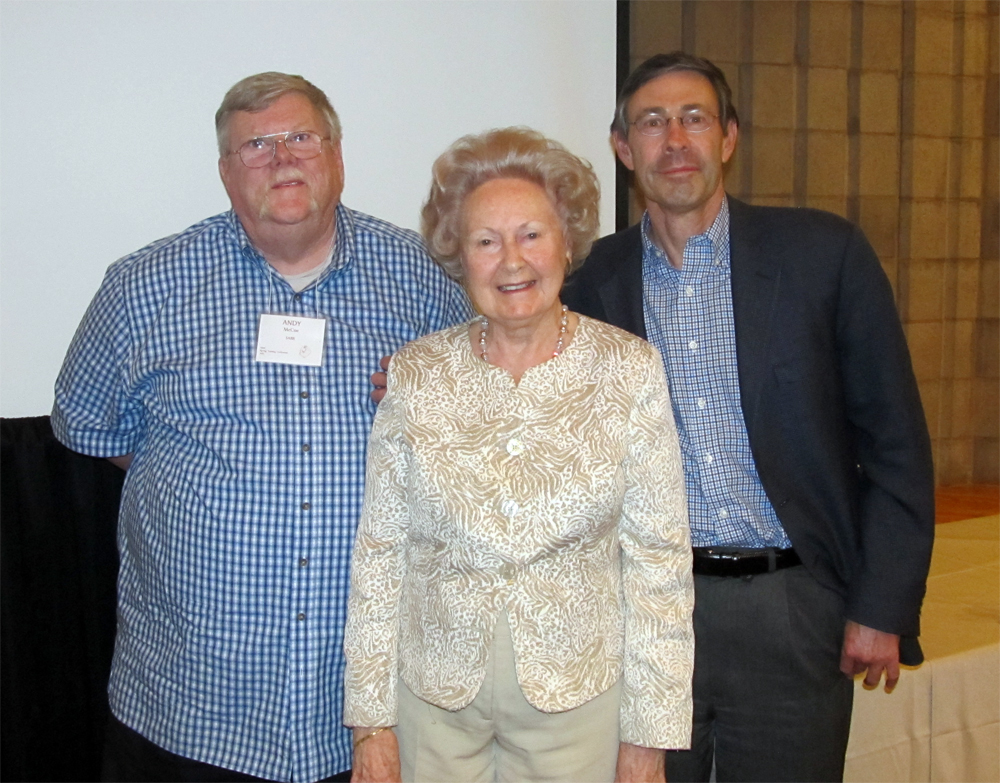 I presented Andy McCue, left, with the 2015 SABR Seymour Medal at the banquet of the 22nd annual NINE Spring Training Conference on March 14, 2015, in Tempe, Arizona. McCue won the Seymour Medal for Mover & Shaker: Walter O'Malley, the Dodgers, and Baseball's Westward Expansion, published by the University of Nebraska Press. With us is SABR Executive Director Marc Appleman.
---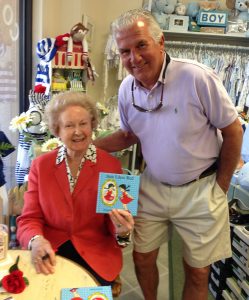 On Feb. 12, 2015, I was at Cottontails, an upscale shop for fine children's apparel and accessories in Naples, to autograph 90 copies of my best-selling book, Ann Likes Red.
Here I am with Cottontails customer Joe Perkins.
---
On Jan. 23, 2015, I spoke at Chez Boet restaurant's Meet-the-Author luncheon about my trilogy of historical novels on the Austrian Nazis of the 1930s.
The event was a success, as the restaurant owner had 26 reservations, including people who had already read the books and brought copies to be autographed.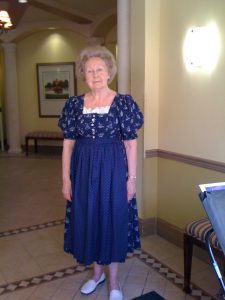 I showed photographs and told stories about the people I had interviewed for background information, especially members of the Austrian nobility.
I am wearing one of my Austrian dirndls, which I always appear in when I present these books.
The event received substantial coverage in The Collier Citizen, a weekly full-color supplement to The Naples Daily News.
---
The 44th Annual SABR convention was held July 30-Aug. 3, 2014 in Houston. Here are some photos from the event, including me with Emma Amaya.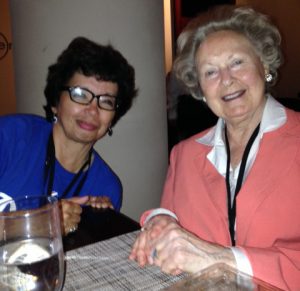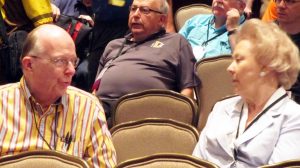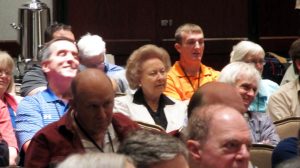 ---
In April 2014 I traveled to Cooperstown, New York, to attend the annual Ivor-Campbell Conference on 19th Century Baseball. I had been asked to present the keynote address at this Conference. On April 15 I spoke on 19th century amateur baseball, pointing out that I have always been more interested in the colorful experiences of the amateurs than of the professionals.
My presentation contains recommendations for research that I believe is still needed for this era. Since the speech was not recorded, I am making a copy of it available here (PDF).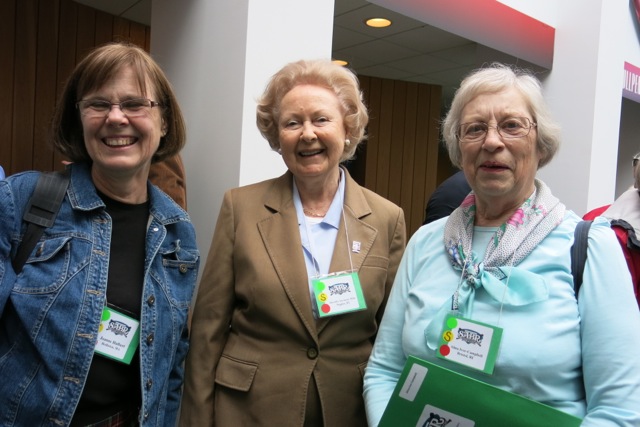 Left to right, Joanne Hulbert, Chair of SABR's Committee on Baseball and the Arts, who made a presentation; me, the keynote speaker; and Alma Ivor-Campbell, widow of the scholar after whom the Committee is named, who was interviewed by the Chairman, Peter Mancuso, at the meeting. (Photo courtesy of Dixie Tourangeau)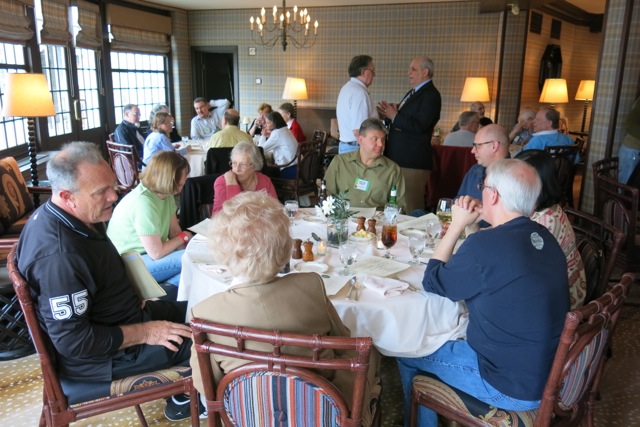 Dinner at the Otesaga Hotel, my back is front and center, as I am engaged in conversation with a participant in the meetings. Joanne Hulbert and Alma Ivor-Campbell are seen conversing. (Photo courtesy of Dixie Tourangeau)
---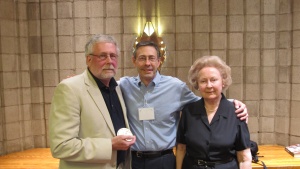 I presented the Dr. Harold and Dorothy Seymour Medal to Dr. Gerald C. Wood, author of Smoky Joe Wood: The Biography of a Baseball Legend, at the annual NINE Spring Training Conference banquet on March 15, 2014, in Tempe, Ariz.
Pictured with me, from left, are Professor Wood and Marc Appleman, director of the Society for American Baseball Research, whose committee selected this biography as the best book of baseball history published during 2013. (Photo courtesy of SABR)
---
On Jan. 26, 2014, I celebrated SABR Day with the Lefty O'Doul Chapter at the San Francisco Public Library. I spoke as part of a panel that was in conjunction with the "Line Drives and Lipstick" exhibition. An enthusiastic audience of about 90 people learned a great deal about women's baseball history. Below, me and Monica Nucciarone, author of Alexander Cartwright, The Life Behind the Baseball Legend, and a group dinner at Lefty O'Doul's restaurant.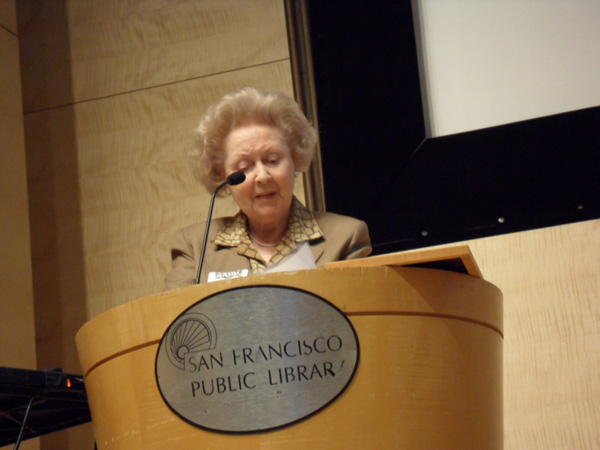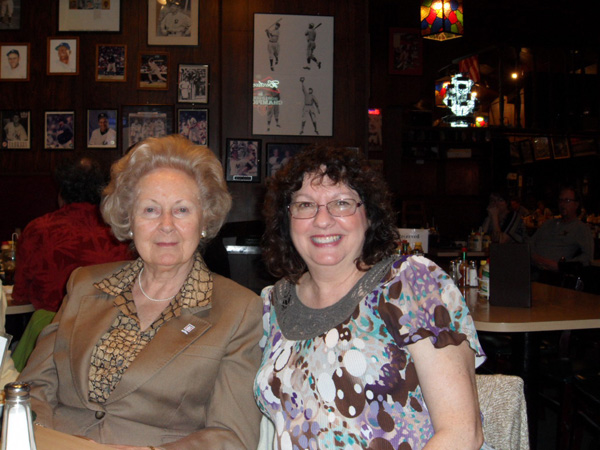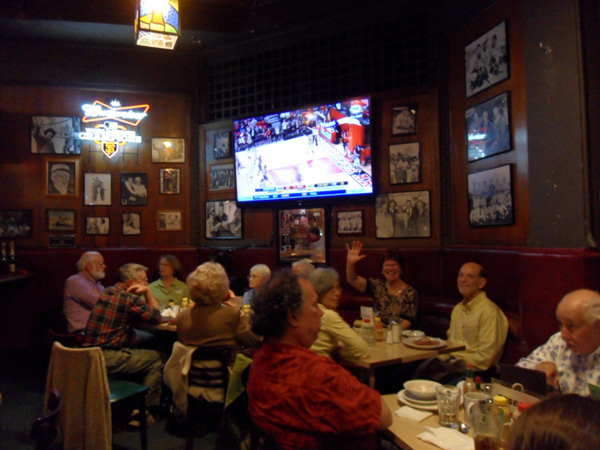 Here is the video of the presentation, courtesy of the San Francisco Public Library. To access only my own presentation, click on the timeline at 12:39 minutes.:

---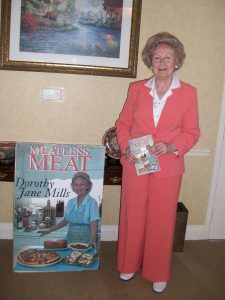 On Nov. 19, 2013, I presented a "Show and Tell Afternoon" at The Carlisle, exhibiting the 13 of my 28 books that are still in print. (Photos courtesy of Lee Webb and Amanda Stith)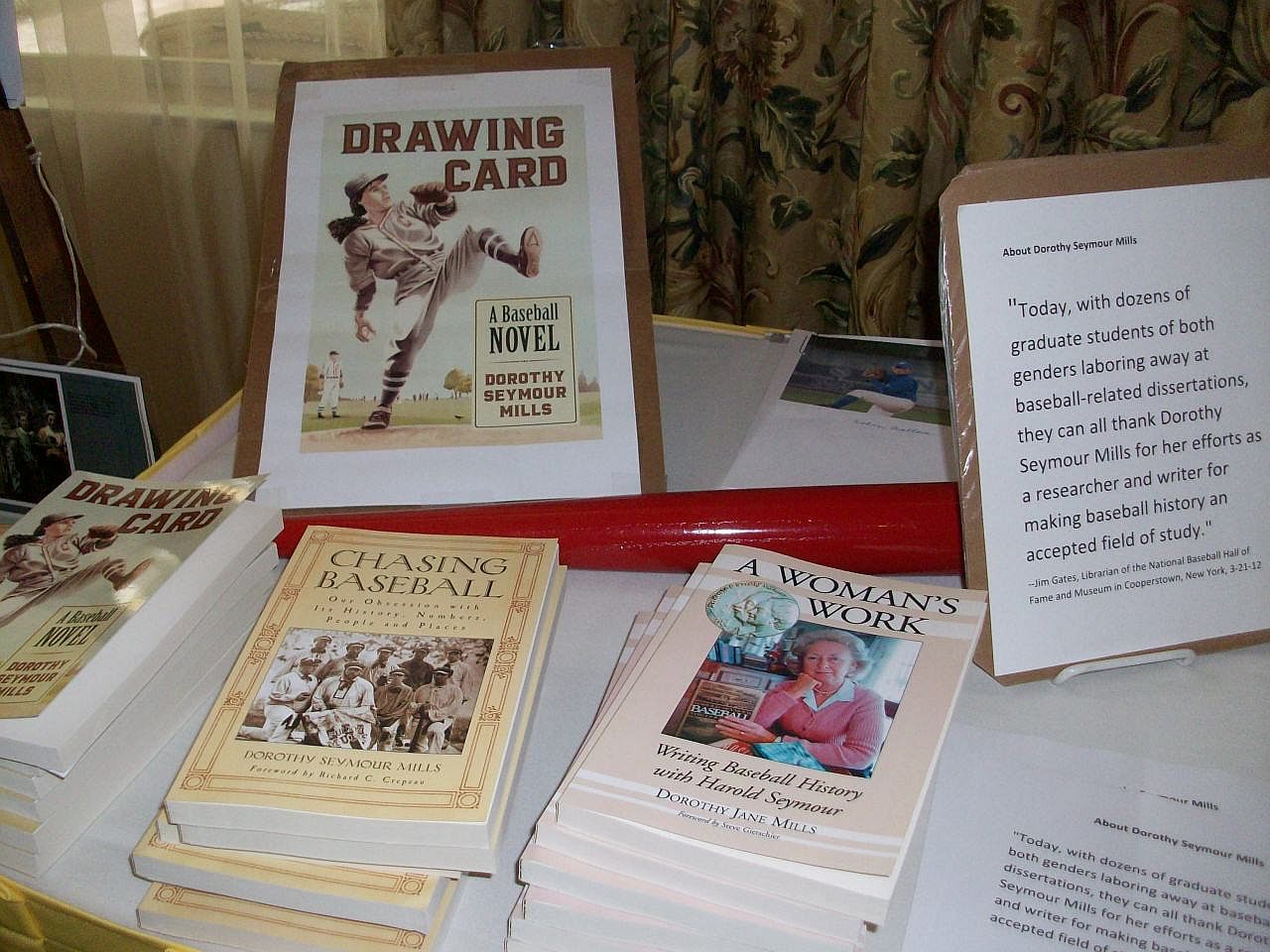 ---
In September, I took a trip through the Midwest that included several speaking events. On Sept. 7, 2013, I spoke to the retirees of the famous All-American Girls' Professional Baseball League ("A League Of Their Own") at their annual reunion, which was held in the Chicago area. On Sept. 10, 2013, I spoke at Cleveland State University, which is my undergraduate university. And on Sept. 11, 2013, I addressed the Cleveland Chapter of the Society for American Baseball Research.
---
From July 30-August 4, 2013, I attended the annual convention of the Society for American Baseball Research in Philadelphia and took part in the meeting of the Women in Baseball committee. I spent time at the McFarland Publishing table to sign copies of my books.
---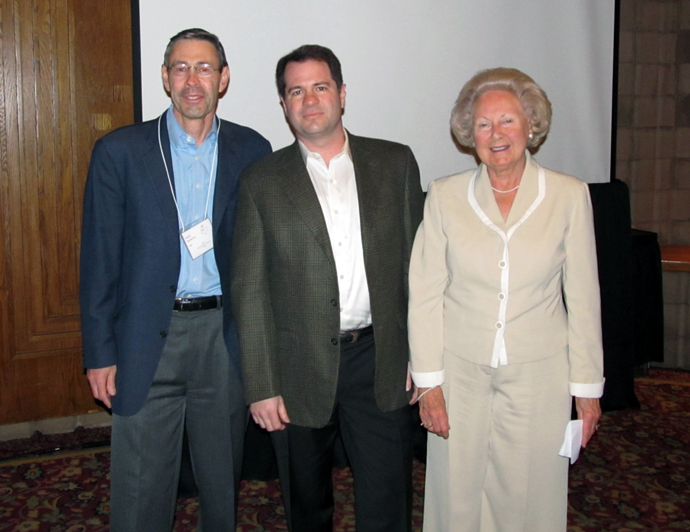 On March 16, 2013, I presented author Rob Fitts (center) with the Dr. Harold and Dorothy Seymour Medal at the annual NINE Conference in Tempe, Ariz. With us is Marc Appleman, Executive Director of SABR. At the conference I spoke about women's baseball scholarship and the changes that have occurred in the last 20 years in this field. (Photo courtesy of SABR)
---
On March 11, 2013, at the South County Regional Library in Estero, Florida, I made a presentation called "How Baseball Made Me a Feminist." This event was co-sponsored by Lee County and NOW, the National Organization for Women. Read the press release.
---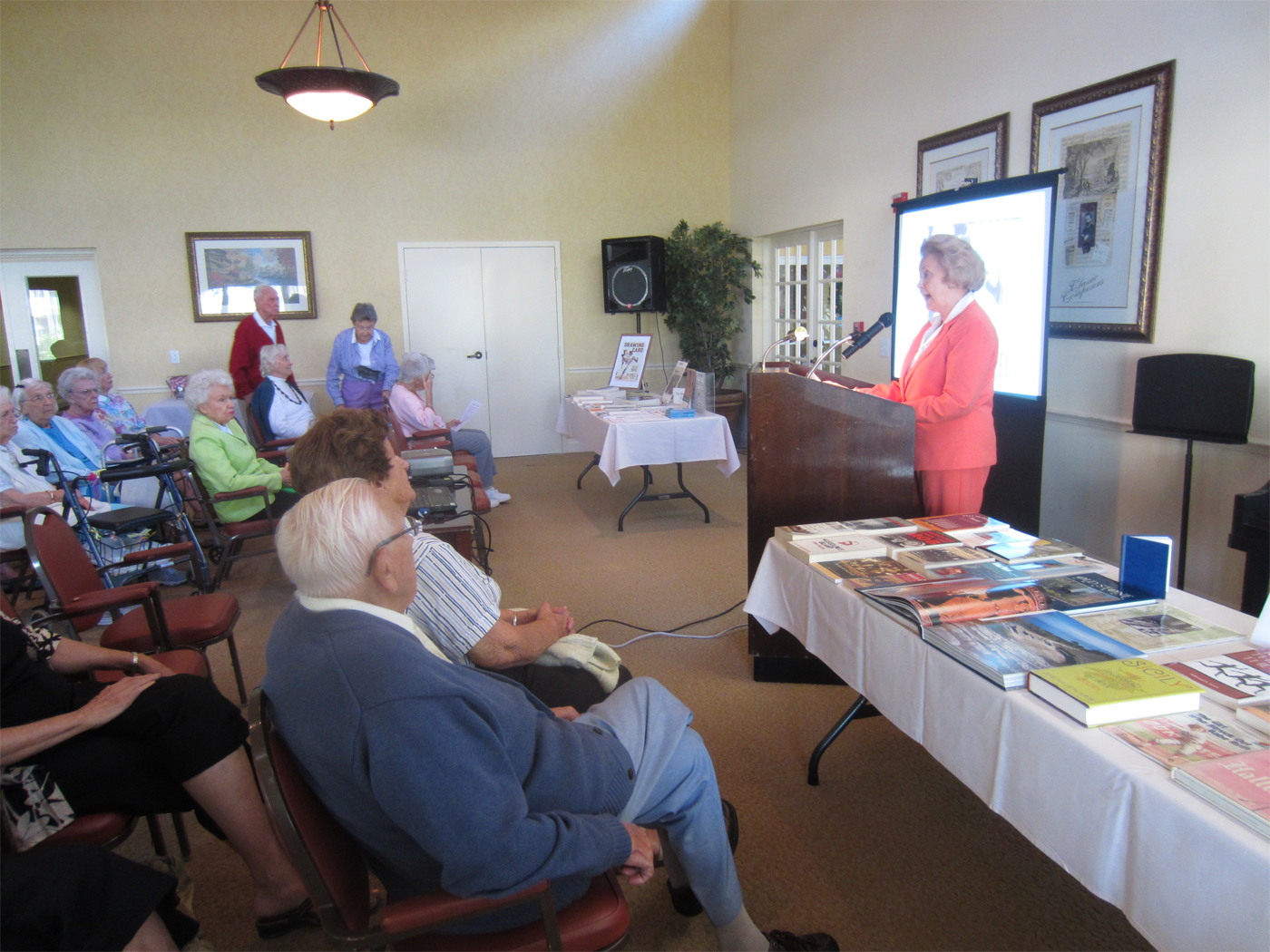 On Nov. 20, 2012, I presented an illustrated lecture about my latest book, "Drawing Card: A Baseball Novel," at The Carlisle. (Photo courtesy of The Carlisle)
---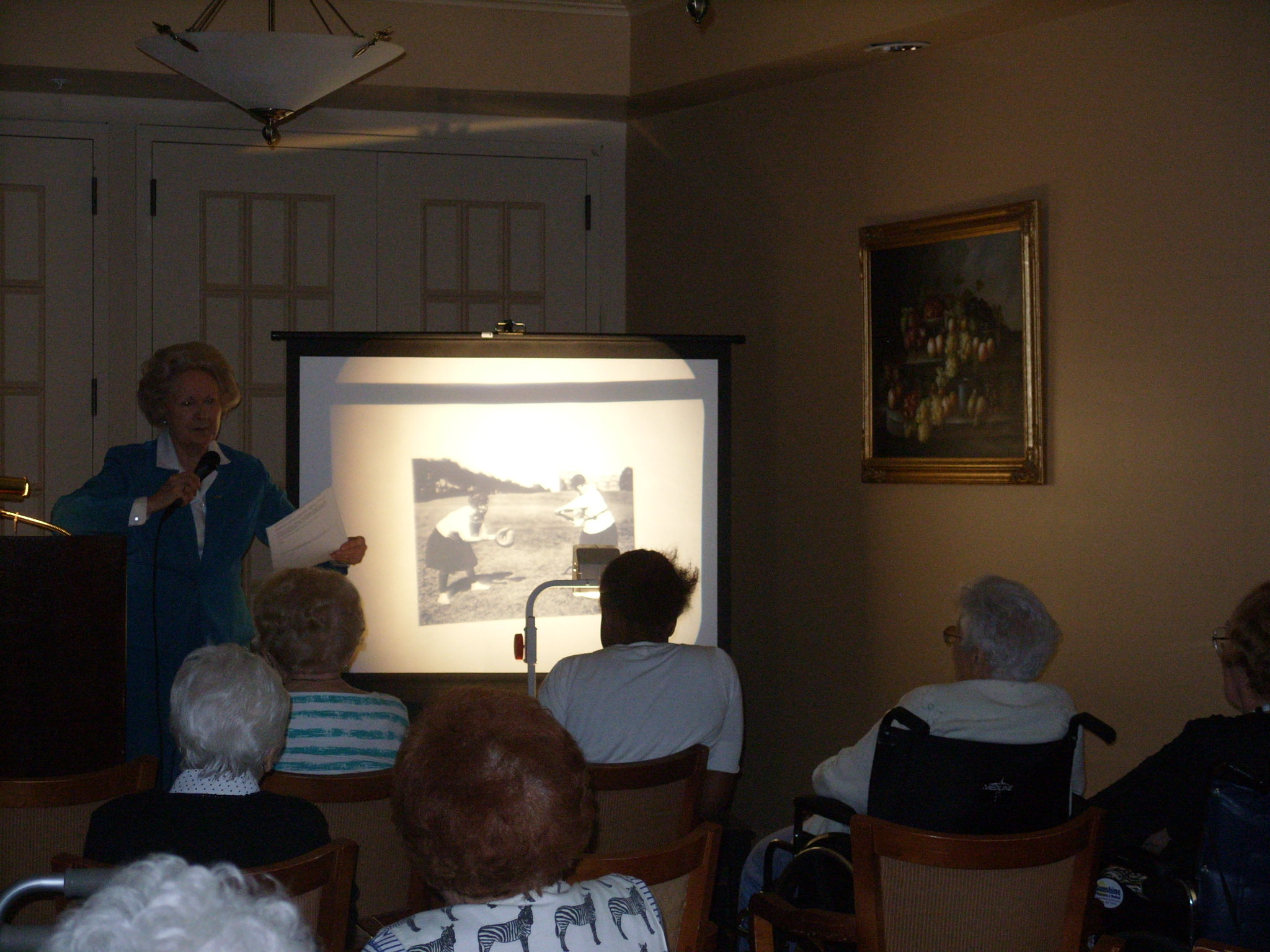 I gave a private presentation on "Women Play Baseball" at The Carlisle on Oct. 10, 2012. My next presentation, on Nov. 20, 2012, is open to the public. (Photo courtesy of The Carlisle)
---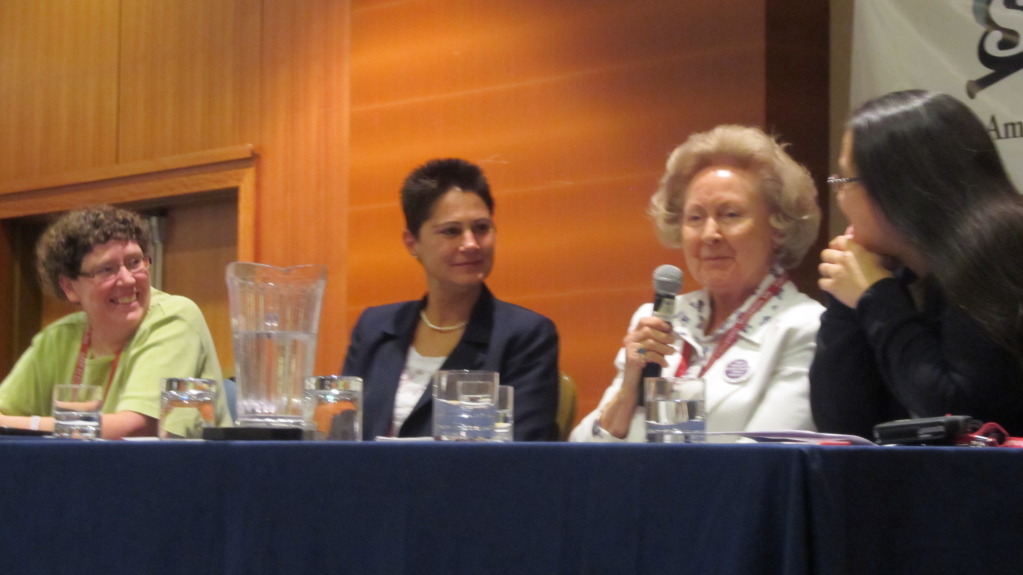 On Thursday, June 28, 2012, in Minneapolis, I was part of a panel discussion about women in baseball during SABR's 42nd annual convention.
The moderator was Ann Carroll, a sports reporter for Fox Sports North. Participants were Laura Day, an executive vice president of the Minnesota Twins baseball club; Cecilia Tan, former baseball player and now Publications Director for SABR; and Leslie Heaphy, Professor of History at Kent State and also Chair of SABR's Committee on Women in Baseball.
As I sat on this panel, it struck me that all the other participants were less than half as old as I am. While discussing women's progress — and lack of it — over the years, I mentioned that I had socks older than the talented young women who joined me on this panel. The reporter for mlb.com must have liked that remark because he included it in his story.
Read the mlb.com story and watch the video.
Read the sabr.org story and listen to the audio of the full panel.
---
In honor of Women's History Month I gave a presentation at The Carlisle Naples in March 2012. The activities director of the residence later honored residents who had presented programs throughout the year. Here are some photos from those events.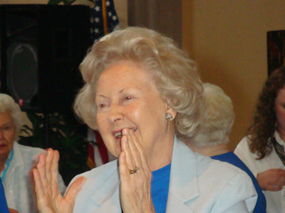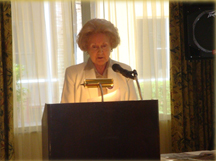 ---
"How Baseball Made Me Into a Feminist" was the title of a presentation I made on Jan. 29, 2012 at the Forum in the Unitarian Universality building in Naples, Fla. Read the full text here.
---
In June 2011, I was a speaker at the annual Association for Women in Sports Media convention, held in Charlotte, NC. An excerpt from my speech: