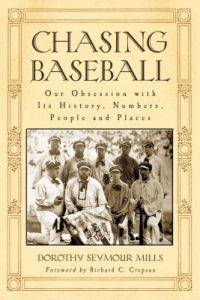 Despite worries about baseball's decline, deep interest in memorabilia, fantasy baseball, exhibits, and the games themselves indicate the sport is surviving steroid scandals, negative publicity, and the perception that the game is more nostalgia than a part of current popular culture. This book shows that while basketball and football might enjoy wider popularity today, no sport elicits the passion — or inspires the slightly off-kilter, obsessive behavior — that baseball does.
Many readers discover with surprise and pleasure that this book includes five chapters about the current status of women in baseball.
The following is a quotation from a review of Chasing Baseball by Jean Hastings Ardell, published in NINE: A Journal of Baseball History & Culture, volume 19 no. 2 (Spring 2011), pages 122-175:
"The national game is not dead or even dying," Mills
concludes. "It's just changing, and change is a sign of life and
progress, as John Ruskin told us back in the 1850s" (228). Mills continues, "I predict that women will become an increasing influence — even a force — in the national game, and that men will find it advisable to loosen their hold or organized baseball as the game changes even further in the future" (229). Mills has been no small part of that force, and in Chasing Baseball, she has written a provocative chronicle of the ever-changing game of baseball."
---
Review of Chasing Baseball
Starred review in Library Journal, February 1, 2010.
Mills is a veteran baseball author, but much was in uncredited assistance to her husband, the late pioneering baseball
scholar Harold Seymour. Now she presents her own first-person examination of the assumptions that surround baseball-e.g., its American origins and its necessary masculinity. Elegantly and calmly, she sets us straight, crediting other SABR researchers along the way. In Part 1,
"A Manly Pursuit," she casts a clear light on such trends as fantasy baseball, growing even as the watching of baseball itself has declined, with sandlot, street, and amateur baseball almost extinct. She reminds us that baseball, as our national pastime, has represented our country at its most disturbing, supporting not only segregation in the past but "faith nights" now, which impose evangelical Christianity on passively
consenting fans. In Part 2, "A Womanly Pursuit," Mills notes the women who have in fact played baseball, albeit excluded from the MLB and subject to ridicule, and the responsibility of collegiate sports and the Little League in shunting women into softball. A fascinating read that will be especially inspiring for women who love the game.