I prepared these remarks in honor of umpire Perry Barber, who was honored as the inaugural recipient of the Dorothy Seymour Mills Lifetime Achievement Award for women in baseball on June 21, 2018, at SABR 48 in Pittsburgh.

I'm delighted to learn that the talented baseballer Perry Barber has won the new Lifetime Achievement Award named for me.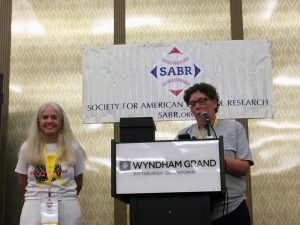 Ms. Barber's talents in baseball are deep and multiple. First, she is eminently worthy of that term from early baseball used for a person devoted to the national game. She is a true baseballer.
Perry is a tireless booster for excellent play on the part of young women, particularly American women. She supports and enjoys the company of those who played professionally in the 1940s and admires these women. The hope is that with regular encouragement and assistance, today's women will eventually find that organized professional play for women similar to what was common in the '40s will again become available to them.
Second, Perry is a constant pusher for more and better umpiring on the part of women. For her, being a baseballer means being primarily a skilled umpire. She knows that when bright young women are broadly accepted as career umpires in charge of games, we can't be far from equity. We are all tired of the Era of Discrimination Against Women in Baseball.
And if you've ever watched Perry umpire a game, you realize that a woman like Perry knows how to take charge and make the game run smoothy. We are so lucky to have her in that position.
We need a lot more women like Perry in our umpire schools and in our colleges, teaching the next generation of umpires. I think if Perry were in charge of umpire instruction for MLB, she might let the boys play, too.
Finally, we simply need more solid, knowledgeable, and devoted women like Perry in our world today, not only as baseballers, in SABR, our baseball world, but also in the rest of our world.
My congratulations to Perry for being the person she is, and to SABR for recognizing her value to us.
Read more from SABR about the 2018 Dorothy Seymour Mills Lifetime Achievement Award.