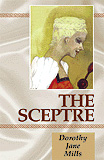 Readers of The Sceptre, a historical novel of the 1930s by Dorothy Jane Mills (a.k.a Dorothy Z. Seymour), say the book is "thrilling," "riveting," and they "can't put it down." Reviewers call it "a gripping story, well told, one that "demonstrates tremendous research…an irresistible tale," calling the main character "a heroine in the classic mold…with determination and focus."
The Sceptre gives us the adventures of Katya Becker, an Austrian immigrant to Cleveland, who returns to her homeland to research the meaning of two ancient symbols she once saw in a prehistoric salt mine. While there she uncovers a Nazi plot to disrupt the Salzburg Festival of 1935 by kidnapping Maestro Toscanini. Through Katya's search she gradually discovers an unexpected connection to the man she loves and to her ancient ancestors.
Two dramatic flashbacks to Keltic Europe of 600 B.C. disclose to the reader the Keltic origin of the sceptre in the title.
The story's theme is that we look and act much like our ancestors, and that in the early, ancient past our forebears were more closely interconnected by bloodlines than we want to think. Like Katya Becker, we may be descended from, and related to, persons we'd just as soon not know about. The Sceptre thus rides the current craze for genealogical research. We all want to know where we fit into history.
Based on ten years of research into authentic events of the 1930s as well as ancient Keltic history, The Sceptre includes cameo appearances by real persons of the 1930s like Maestro Arturo Toscanini, the fashion photographer Cecil Beaton, psychoanalyst C.G. Jung, the high-fashion designer Elsa Schiaparelli, Prince von Starhemberg (who was then Vice Chancellor of Austria), and Nora Joyce, wife of James, the writer. And others!
In 2012 The Sceptre was republished as an eBook by Thinker Media. It is available for eReaders such as the Kindle or the Nook, or through Kobo Books or iTunes.