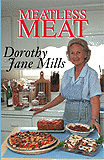 Here are some true stories about the recipes in this book.
A woman who lives in Nova Scotia phoned me to say that her family loves the American Meatballs recipe so much that she was asked by her son to prepare "those vegetarian meatballs" for his wedding banquet. So she made 200 meatballs and delivered them by car to the wedding, where they were served in their own gravy out of elegant chafing dishes, to the delight of all!
A Naples man named Richard who tried the Stuffed
Cabbage Rolls says he dotes on this recipe and makes it often because it reminds him of his mother's ethnic Polish cooking. Now he adds mushrooms and sauerkraut to the recipe, because his mom did that.
A newsman in Parksville, British Columbia, emailed me to say that my meatball recipes are favorites with his family.
A visiting relative who is a meat-eater came for dinner and "poker with the boys." He enjoyed the pizza very much and
didn't realize it was vegetarian. Months later, on a return visit for more poker and dinner, he watched me approaching the table bearing the same entree and exclaimed, "Is that your famous pizza? Yum!" So I named that recipe "Poker Pizza."
A guest who was served a meatless lunch in my home thought she was eating veal and asked for a second serving. I was surprised into calling that recipe "Veggieveal Parmigiana."
Some fans admire the book even before trying the recipes. A Quebec reader said, "I really like the cover; just looking at the food makes me hungry. And I like the way you write the recipes to include suggestions on what to serve with each one." A New York friend remarked, "Just reading the book is entertaining — I do enjoy your style of writing!"
Neighbors at our frequent Naples block parties love
my meaty-tasting quiche. Even though they know I'm a vegetarian, they are half-convinced that I put meat in this entree. I cut it in thin slices and place the slices on a tray. When I put the tray on the table, I have to back away fast so that people can crowd around and pick up their slices. I often bake this quiche to serve as samples at seminars. The samplers want to know how I can make it taste so much
like ham! It's a secret; for the answer, I direct them to the recipe.
My vegetarian version of pepperoni, which I often use as a cocktail snack, always surprises people who know I'm a
vegetarian. They say, "Wow, good! Is this real pepperoni?" My answer: "It's Pepperfoni."
The manager of an Albertson's store in Naples told
me that he sent his mother in Washington, D.C., my recipe for Stuffed Cabbage and asked her to prepare it for him when she visited him here. She obliged, and he reported to me that he very much enjoyed eating it, saying, "Let's face it; we can't tell the difference when it doesn't really have meat in it!"
One day a Naples friend dropped in to deliver something just after we had enjoyed vegetarian calzones for lunch. The
ones we hadn't eaten were still hot, so I gave her one to take home. She called later to say how delicious it was and could hardly believe it when I told her it was meat-free.
At our residential community's Italian Night dinner, meatballs were on the menu. To help out those of us who are
vegetarians, I prepared a double recipe of my Polpette (vegetarian Italian meatballs) so that there would be enough for the other vegetarians and me, plus plenty of leftovers for us to take home. I left the big bowl of Polpette in the clubhouse kitchen, with directions about whom to serve. I learned later that in the middle of serving, the food committee ran out of meatballs. When I returned to the kitchen to collect my leftovers, only two Polpette remained in the bowl. The committee had served the rest of them to several meat-eaters. Do you think any of them realized it?
A Boston friend of mine named Howard wrote me
recently, "Ever since you introduced me to TVP I have enjoyed making hamburger-like patties with all kinds of seasoning in them. I love them. I especially like to use red-hot sauce as a spice." I hope that Meatless Meat will keep inspiring people like Howard to experiment in preparing their own tasty favorites.
A Naples woman who was too sick to come to an autographing session sent her husband to purchase the book. A few days later I wrote him asking about his wife, and he replied, "Helen wants you to know that she simply loves the cookbook!"
A Cleveland physician who is involved with three different vegetarian groups there believes that Meatless Meat
"addresses an important need." That was the point of writing it: to aid people who want to change their approach to healthful and delicious eating.
The web site Vegetarians in Paradise describes me as follows: "Vegetarian for 30 years, this well-traveled author whips up a host of familiar international dishes with a vegetarian twist. Focused on hearty, meatless entrees that satisfy even the life-long meat aficionados, this TVP specialist also recreates a plethora of American comfort foods along with a wide range of global specialties in a unique
recipe format." The site operators, Zel and Reuben Allen, call me "Dorothy, The TVP Queen."
After I spoke to the Nutrition Faculty of the Medical College at Western Reserve University in Cleveland, the department head told me she plans on using Meatless Meat with her students in classes during the school year 2003.
A Scotsman who lives and works in France emailed me
to announce that his wife has prepared several of my recipes and that they both enjoyed them. He himself likes reading the book because of its "chatty" style of presenting the recipes: "I feel as though I am sitting across the table from the author." A contact of his who writes for British publications plans to review the book favorably, he says.
Don Montgomery of Dallas, Texas, emailed me, "Well,
everything you said was true: the CantBeatloaf is fabulous! I was surprised by how meat-like it looked, even while being spooned into the baking pan and of course coming out of the oven. Even before trying other recipes, we're going to the store to get more feta and making two more loaves."
An almost-vegetarian named Selena wrote me, "I was telling my family just this morning how creative your Meatless Meat
book is. I was just experimenting with vegetarianism the first time, but this time I'm sure it will be a permanent life change."
An artist who stopped me in the supermarket said she had attended one of my vegetarian seminars, where she bought Meatless Meat. She reported that she finds the recipes "wonderful."
Meatless Meat is available from the author and from online bookstores, as well as from local bookstores. You can
also get it direct from the distributor, Xlibris, at www.xlibris.com.